There are many web apps out there for real-time collaboration, but getting by free and good ones is not that easy. That is why I am sharing The 7 Coolest Real-time Collaboration Web Apps You Might Not Know About But Should. Read each entry in the list and see which tool suits your needs best.
You are welcome if you want to share more web apps that our readers/viewers may like. Do you want to be the first one to know the latest happenings at  SmashingApps.com, just subscribe to our rss feed and you can follow us on twitter and follow us on Digg as well to get updated.
crocodoc takes your PDFs, Word documents, and PowerPoint presentations, and lets you view and mark them up online. Documents can be shared with others, who can collaboratively highlight or strikeout text, add notes and comments, and make revisions.
TitanPad lets people work on one document simultaneously. While working on this app, you may do infinite undo and everyone gets their own color.
notapipe.net is a web service that allows you to edit text files in a realtime collaborative environment, from everywhere. This means multiple users can edit the same document simultaneously and changes are near istantly dispatched to every connected user.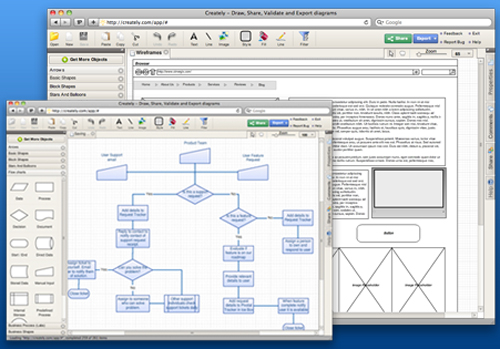 Creately is a visual collaboration platform used by project teams to communicate more effectively. With Creately's easy to use interface and Shared Projects, everyone on your design, development and business teams can collaborate on software designs, wireframes, business & strategy diagrams easily.
DataNest allows you to back up important files and share data with your team, organization, friends or family. You can edit files online without installing any software.
tgethr is for Project teams who need a no-frills, secure email-based collaboration solution and useful for families, friends, and clubs who don;t need the overhead of more complicated solutions. This is also best for remotely located
people who still use email as a primary collaboration mechanism. With tgethr all correspondence over the web and email can be safely encrypted.
ShowDocument is an online collaboration platform that lets you conduct web meetings and document sharing and collaboration sessions with clients and colleagues, and brainstorm using interactive whiteboards.