There is a time when only Power Point was used for creating presentations and slides. But now there are so many advanced sites and wonderful Apps are easily available in the internet. If you are planning to create an eye-catching and outstanding presentation then have a look at this collection. In this collection you will find 40+ superb sites and Apps that surely help you to creating your masterpiece and most important is they all are easy to use.
With these sites and Apps you can make your presentation more stunning and eye-catching. Check this out and get to pick one and do not forget to share your precious opinion with us via comment section is below. Enjoy and stay creative everyone.
Prezi is a cloud based presentation software that opens up a new world between whiteboards and slides. The zoomable canvas makes it fun to explore ideas and the connections between them.
SlideRocket is a revolutionary new approach to business communications designed from the start to help you make great presentations that engage your audience and deliver tangible results.
authorSTREAM enables presenters to upload and share PowerPoint presentations online and embed slideshows in blogs, convert to video and share on YouTube, iPods, iPads and social networks.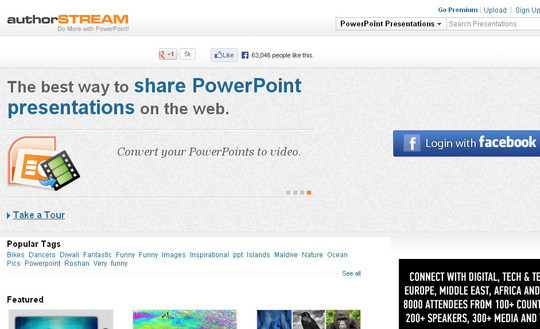 Jux is the best showcase for your stories. Share words, photos and videos with unprecedented ease and impact. Fullscreen on every screen. Desktop, iPad and iPhone.
Tell your story anyway you like. Add photos, music, video, and audio, and share it publicly or privately in an instant.
Free presentation creation, hosting. Add audio to PowerPoint slides, docs, photos to create online videos. Use for e-learning, on-demand webinars, lead generation.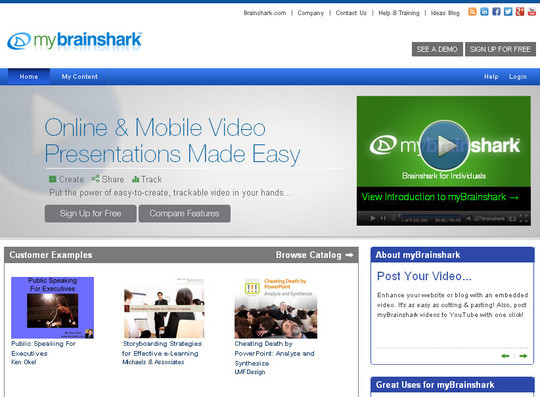 Novio: an easy-to-use tool to create interactive online video presentations using a webcam and PowerPoint slides.
Myplick is an easy way to share your Presentations and Slideshows online.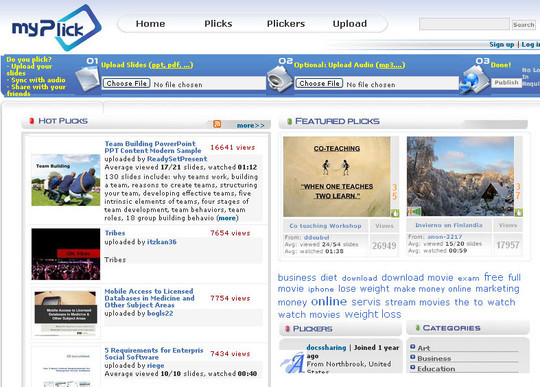 Click 'Record' and off you go – if you can talk & click a mouse at the same time then you can use Present.me. If you make a mistake, there's no need to start again, you can trim the mistake off, then carry on recording from where you left off. It's really easy!
Upload and Share PowerPoint presentations with your family, friends, colleagues, clients and the whole world.
The easiest and powerful presentation platform just works.
Zentation combines video and slides to create online presentations that best simulate the live experience. Easily create high-end webinars, webcasts, elearning, training and virtual events.
Automatically make your own free slide show in seconds. Upload photos, pick music, add captions in the show, and more!
Transforming media into collaborative spaces with video, voice, and text commenting.
Get students excited to learn with digital media. Make a video with photos, video clips and music to enhance the classroom experience.
SSC is great for sharing photos from a vacation or a celebration with your friends and family. Beautiful or humorous presentations make a wonderful gift. Slide Shows can also promote your products or services. Share your slideshows on YouTube or Facebook!
Biteslide is a fun and easy-to-use slidebook app that promotes student creativity, self-expression, and imagination.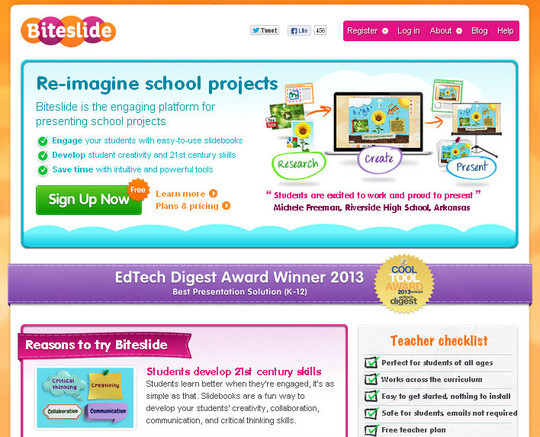 Electric Slide: Present Anywhere
Electric Slide is the easiest way to wirelessly present PowerPoint slides, Office documents, PDFs and videos with your iPhone or iPad. Your device is a remote control that works anywhere with any screen. Since viewers just need your simple URL to follow along, setup is a cinch. You can also connect your device directly to a TV or projector via HDMI or VGA.
eMaze is an online presentation tool for people who want more than PowerPoint
Haiku Deck is the simple new way to create inspired presentations – whether you're pitching an idea, teaching a lesson, telling a story, or igniting a movement. Featured on the iTunes "New and Noteworthy" and "What's Hot" lists!
Slideshows for facebook, twitter and blogs.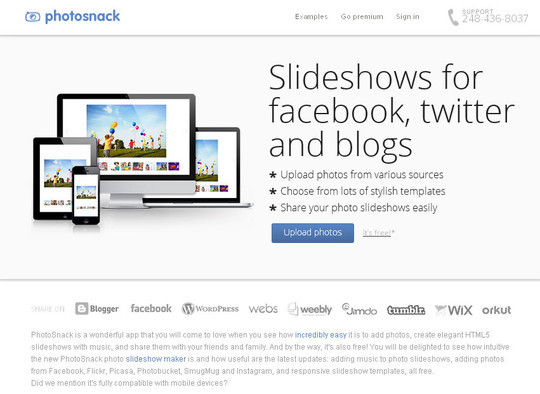 Get your design ideas online and start reeling in the feedback. A little app from ZURB that lets you cast your ideas, poll your friends, and reel in the feedback.
View PowerPoint on an iPad, iPhone or iPod with an award-winning app. Connect an iPad to a projector. Manage and track team content. Broadcast slides online.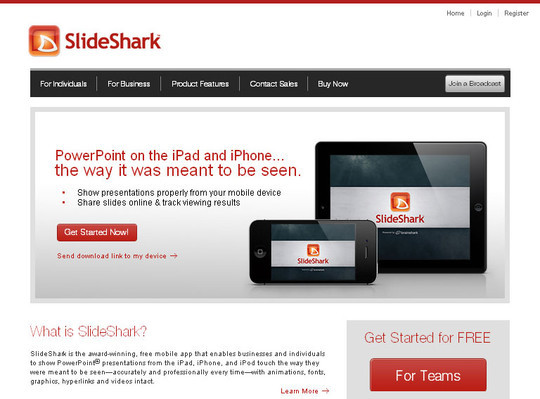 Free Slideshow Maker Software for Windows.
Speaker Deck is the best way to share presentations online. Simply upload your slides as a PDF, and we'll turn them into a beautiful online experience. View them on SpeakerDeck.com, or share them on any website with an embed code.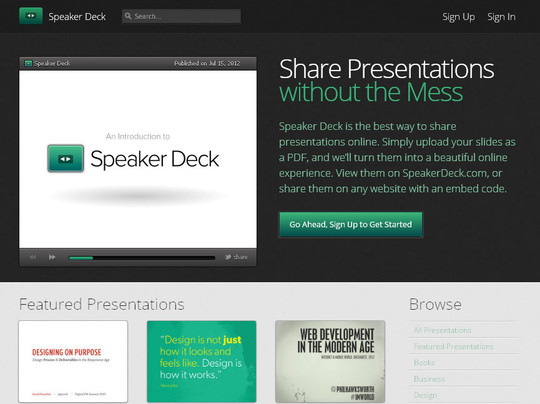 Awesome Way to Organize and Present Ideas using Mind Maps and Prezi Effects.
Vivapitch lets you view, share, save, annotate and engage with conference presentations on your mobile device, in real time.
Simply put, Vizlingo is a messaging tool that translates your words into video. It's easy! Just type, see and send.
A new way of organizing, sharing, and presenting web content.
Premium Tools and Sites: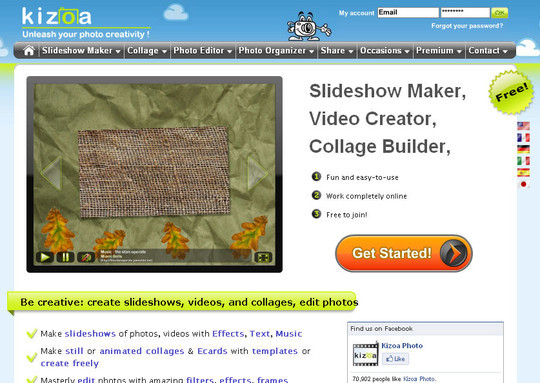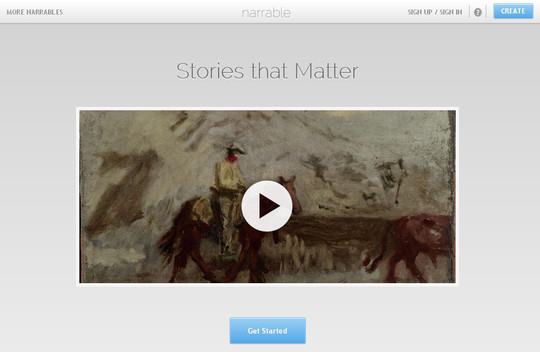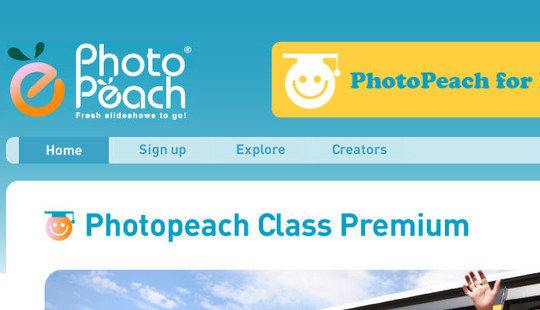 Slideshows for facebook, twitter and blogs