Having a smartphone in your pocket has somewhat become a style statement, but apart from its appearance and style appeal, it allows you to perform all tasks that you would perform with your laptop or computer. This is the main reason of smartphone popularity.
For the iPhone users, there are plentiful iPhone apps accessible on the internet. So, rather than wasting time in looking for the one you require, have a look at this collection of apps that we have composed here to permit people discover the few useful apps they can magnify their productivity with.
SkyGrid is a beautiful and captivating way to stay up to date on your news. Follow all the sources and topics you want, and effortlessly receive updates on the interests you care about. Read your favorite news, people, blogs, and topics in a customized Photo Grid.
Intuitive TaskManager with cloud sync accross iPhone, iPod, iPad and web interface.
Salesforce Mobile gives you instant access to your Salesforce information on your iPhone.
Find My iPhone is free for anyone with an iPhone 4, iPad, or 4th generation iPod touch (iOS 4.2 or later required).* Just sign in with your Apple ID on your qualifying device and turn on Find My iPhone to allow you to locate it.
Adobe Photoshop Express software lets you use simple gestures to quickly edit and share photos from your mobile device. Enjoy having your photo and video library right in your hand — without wasting your device's valuable storage space.
It's easy to manage your WordPress blog or site from your iOS device. With WordPress for iOS, you can moderate comments, create or edit posts and pages, and add images or videos with ease.
SugarSync is by far the best solution to replicating and synchronizing your files across multiple computers. It really works.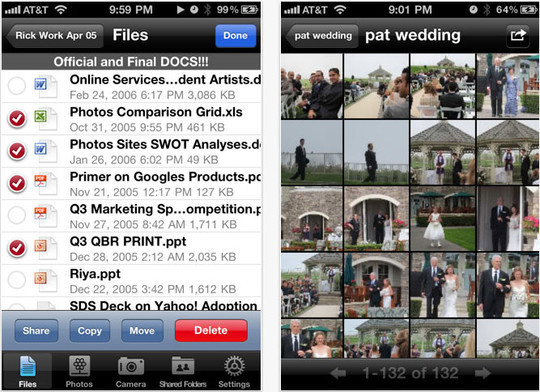 With this tool you can remotely connect and work on your Windows computer.
With this app you can tweet and collaborate with your clients over Twitter.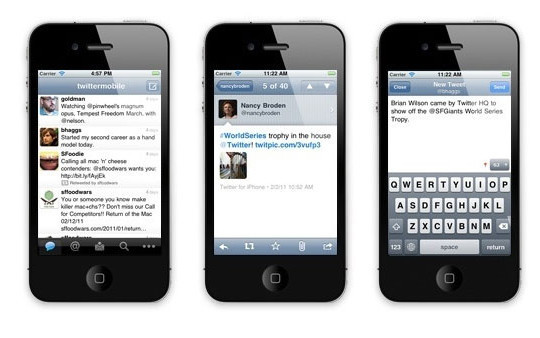 Call, video call and instant message anyone else on Skype for free with Skype for your iPhone or iPod touch. Plus call and text your Contacts (or any other number) at Skype's low rates. It's great value with Skype Credit.
PCalc Lite is a fully functional and free taste of our popular scientific calculator. It includes an optional RPN mode, multiple undo and redo, unit conversions and constants, as well as two stylish themes and our highly praised design.
This is a great app that will come in very useful to a lot of people, especially teachers and business people.
Get the most advanced Google search experience for your iPhone, now with Google Goggles, Voice Search and My Location.
Access to Uploadingit from the most requested device is now here. Upload, manage, view and share all your files from the new Uploadingit iPad application. Viewing images, videos and more has never been so wonderful.
Cool Hunting is synonymous with seeking inspiration. Our global team of editors and contributors sift through innovations in design, technology, art and culture to create our award-winning publication, consisting of daily updates and weekly mini-documentaries.
Designed for creative and media professionals, the Getty Images app puts over 24 million powerful images at your fingertips. Access our entire collection from client meetings, the coffee shop or any place in between. Now you can search, save and share a world of creative stock photos as well as editorial and archival imagery – wherever and whenever you need them.
Accept credit cards and cash on your iPhone, iPad or iPod touch with the free Square Card Reader. It's only 2.75% per swipe for Visa, American Express, MasterCard and Discover. No contracts, monthly fees or merchant accounts. Funds are deposited into your bank account the next day. Square makes it easy for anyone to accept payments, anywhere.
Fring lets you chat and place calls to others for free.
Now a universal app for both iPad & iPhone, Twitterrific is the friendly, award-winning Twitter client that's beautiful to look at easy to use and full of elegant features. Effortlessly read and compose tweets, search Twitter.com, filter message types and much more.
Doodle Buddy Gold is the most fun you can have with your finger! Finger paint with your favorite colors and drop in playful stamps. Connect with a friend to draw together over the Internet.
Brushes is a painting application designed from scratch for the iPhone, iPod touch, and iPad. Featuring an advanced color picker, several realistic brushes, multiple layers, extreme zooming, and a simple yet deep interface, it is a powerful tool for creating original artwork on your mobile device.
iBlueSky is a brainstorming and mind-mapping solution for the iPhone and iPod Touch.
The HEX RGB Colors Guide app gives you an easy reference to RGB and HEX color codes right on your iPhone or iPod touch. This app is designed for anyone who deals with HEX and RGB Color codes when it comes to designing offline and online media of multiple types.
Even seasoned jQuery developers need a quick refresher course in jQuery syntax and arguments from time to time. jQuery Cheat Sheet for the iPhone is designed to address that need. Use it as a quick reference for topics you've already learned but need a few reminders on, or if you're still a beginner to jQuery, use it to better understand what jQuery is capable of.
An FTP client for the iPhone and iPod touch. All the features of a desktop FTP client and more; a very powerful app. With FTP On The Go, you can fix your website, and view files on your FTP server, from anywhere.
Hold the world in the palm of your hand. With Google Earth for iPhone, iPad, and iPod touch, you can fly to far corners of the planet with just the swipe of a finger. Explore the same global satellite and aerial imagery available in the desktop version of Google Earth.
Gowalla is the leading social guide to the world's most loved places and cities. We make it easy to discover where your friends have visited, what the locals love to do and where experts recommend you go. It's a delightful way to share and discover photos, experiences and recommendations on the go.
Download Fandango Movies – Times & Tickets, the number 1 movie ticketing app featured in numerous Apple commercials and winner of three Webby Awards!