If you set the target to reduce some weight or burn some calories but the problem is that you do not have much time for this purpose. So, you do not have to worry anymore because in this collection, we are showcasing some remarkable and free iPhone Apps that will help you lose those extra pounds. You can easily achieve your fitness goal with these free and amazing iPhone Apps. We know that putting on weight is quite easy as compared to losing it, and this tough task becomes even more tougher when you have a tough schedule.
With this collection, hopefully everybody will find something interesting as well as useful for herself or himself. We hope that you will like this assortment. Feel free to share your opinion with us via comment section below. Your comments are always more than welcome. Enjoy this amazing collection everyone. Let us have a look!
Ready to get serious about weight loss? Lose It! can help you make your goal a reality.
YOUR IDEAL WEIGHT is an app that estimates what you should ideally weigh, based on your Body Mass Index (what doctors recommend) and what people would like to weigh, based on height and age.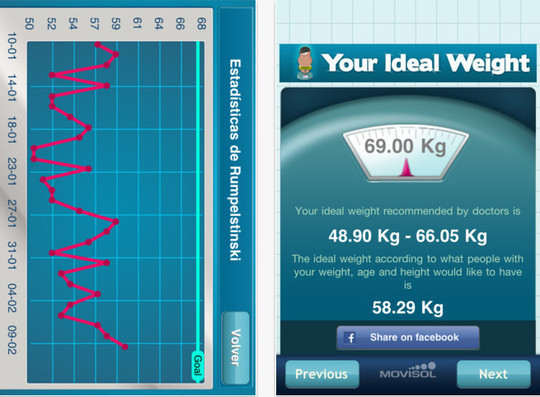 Fitter Fitness Calculator & Weight Tracker
Personal Daily Weight Tracker and BMI, BMR, Body Fat% & Waist to Hip Ratio Manager.
Take Weight Watchers Mobile along to help you stay in control and make smart and satisfying food choices. We've added brand new interactive tools so you can tap into the stick-with-it power of the new Weight Watchers 360 program anytime, anywhere.
The 40.30.30 iPhone App lets you quickly calculate the percentage of calories in a food from the three macronutrient groups: carbohydrates, protein, and fat.
The most popular software pedometer for the iPhone and iPod Touch is back in the App Store and avalable world-wide.
This is the Lite Version with limited functions. To enjoy all functions, please download A+ Weight Manager — Track your ideal weight!!
Calorie Counter, the diet tracker from the #1 health website Everyday Health, makes reaching your goal weight easier than ever! With this calorie and fitness tracker, you can log your weight, count calories and important nutrients, stay up-to-date with a live feed of weight-loss tips, access to over a thousand healthy recipes, and get motivated with in-app support groups of thousands of other dieters!
The Ultimate Cardio Workout Companion. Map your outdoor runs and bike rides with GPS. Record your time, distance, and speed.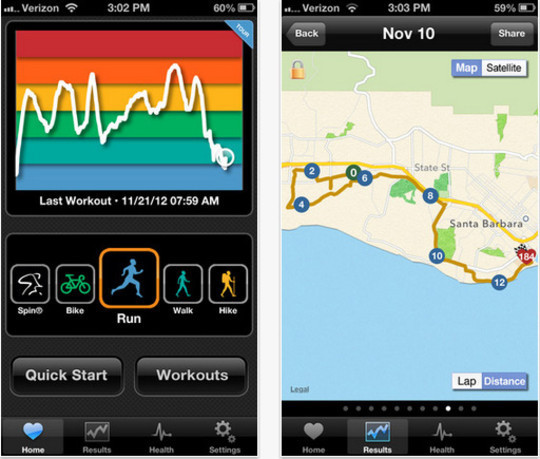 If you have a health condition like diabetes, information about what you eat can be important. GoMeals® was developed to help you make healthy lifestyle choices at home or on the go. Now GoMeals includes tools for eating healthy, staying active, and tracking your blood glucose levels.
ULTIMATE Exercise Journal, 320+ Exercises
Body Fitness is the Top FREE Fitness App in over 35 countries – USA, UK, Canada, Italy, Germany, France, Australia… download Body Fitness and get into shape today.
The most incredible Fitness application and completely free. Over 250 exercises, more than any other app. Create and log your own routines or choose from 120 programs, ranging from 6 to 60 minutes and suitable for any fitness level.
Fitocracy motivates and empowers you to succeed at fitness and level up in real life. We make exercise fun! Track your workouts, earn points, unlock achievements, beat quests, and slay the laziness dragon. Join the best fitness community on the planet and become the person you were meant to be.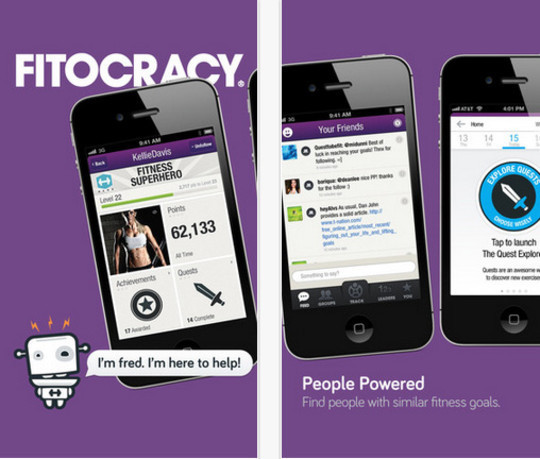 The free version, GAIN Strength, builds personalized workout programs from 350+ exercises and a variety of popular training styles – strength training, plyometrics, calisthenics and yoga. Workouts are algorithmically tailored to your fitness level, goal, equipment and schedule (in real-time).
Free fitness GPS game for weight loss, better health, strength training, mPoints & Kiip rewards – daily goal to exercise, lose weight & gain motivation
Calorie Counter & Diet Tracker by MyFitnessPal
Lose weight with MyFitnessPal, the fastest and easiest to use calorie counter. With the largest food database of any calorie counter (over 2 million foods), and amazingly fast food and exercise entry, we'll help you take those extra pounds off! There is no faster or easier diet tracking app than MyFitnessPal. Period.
Let this app help you keep track of your weight and view your progress visually.
Weight Watchers Barcode Scanner US
The Weight Watchers Barcode Scanner uses the latest technology to take the guesswork out of shopping for foods that will help you stay on track. Whether you're in the supermarket, at home, or on the go, you can easily scan foods to help make smarter decisions. Just scan a barcode with the app to find the PointsPlus value (all you need is an internet connection).
Lose weight, eat real food, and track your progress. Fooducate grades your food, explains what's really inside each product, and offers healthier alternatives. We've got the largest database of UPCs – over 200,000 unique products and growing.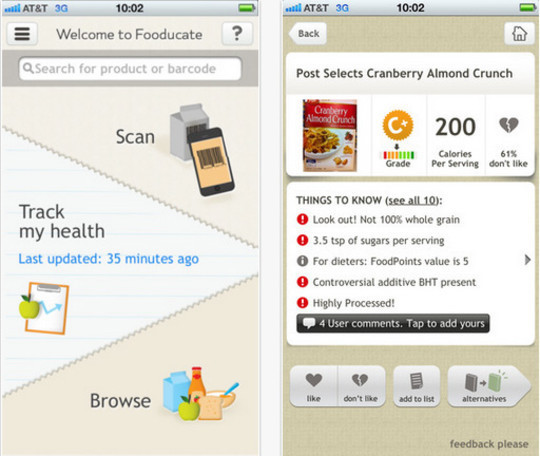 This is the most comprehensive weight loss application that consists of weight loss simulation (on your own photo!), a personalized BMI chart, a customized exercise plan, and a diet recommendation all in one app. Some of the main features include: