With the advancements in technology, it seems that many people are now own an iPhone, and with that come iTunes as well. iTunes is a place where iPhone users can download different apps. There is an application page on iTunes where you can find a number of apps dedicated to food and recipes only. I am sure that every iPhone user will agree with me that cooking becomes a fun when they have the right recipe and culinary techniques right at their fingertips and this is the power of iPhone apps.
iPhone apps are the way to go when you want to spice up your holiday baking rituals. Here is the complete collection of 22 free food and recipe apps. Try them for yourself to broaden your recipe collection!
Do let us know what you think about this compilation. Feel free to share your opinions and comments with us via comment section below.
Have fun!!
Recipes and Grocery List – BigOven
Take 250,000+ recipes (including all your own and recipes from friends), your grocery list and menus anywhere on your iPhone! With over seven million downloads, BigOven is the most complete cooking tool for getting inspired and organized in the kitchen and on-the-go.
Real Recipes (for iPhone and iPod touch) gives you the kitchen tools you need to make delicious, easy meals. Get thousands of free recipes that have been rated by other users, your own personal Recipe Box, and customizable food timers and alarms. You also get free access to the Recipe Spinner, which finds the perfect recipe for you in seconds. Plus, you can learn to cook using our step-by-step tutorials.
Epicurious Recipes & Shopping List
Recipes from the award-winning food site Epicurious.com are now available on your iPhone and your iPad. Search more than 30,000 delicious, professionally created recipes from Bon Appetit, Gourmet, Self, and renowned chefs and cookbooks. Save your favorite recipes, and sync your Favorites list in the app with your online Recipe Box at Epicurious.com. You can also create shopping lists, and e-mail recipes and shopping lists to yourself and friends. Plus, get access to authoritative recipe reviews from Epicurious members.
Looking for healthy and delicious food? Search Whole Foods Market Recipes for recipes featuring the finest natural and organic foods. You can search recipes by ingredients and dietary preferences such as gluten-free, low fat, and vegetarian/vegan. Every Whole Foods Market recipe includes nutritional information and cooking instructions. You can also enter up to 3 items you have on hand to find recipes using those ingredients.
The Betty Crocker® Mobile Cookbook
This FREE app puts more than 13,000 tried-and-true recipes at your fingertips – and it's fully loaded on your iPhone® and iPod® Touch. Now, you can sync your recipes and grocery lists between website and app!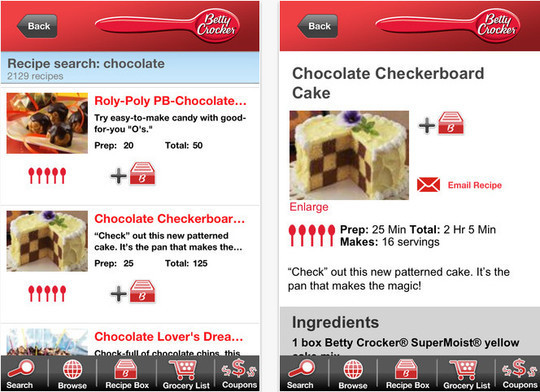 The free social recipe website with over 1,500,000 recipes shared by our members – one of the largest and fastest growing recipe collections in the world.
Allrecipes.com Dinner Spinner – Recipes, Drinks, and more!
A fun and easy way to find awesome recipes! Search by ingredient or give your phone a shake to find inspiration. Then relax and feel the cooking stress melt away. You'll be making recipes from the #1 food site, all tested and reviewed by home cooks like you.
Allrecipes – Your Kitchen Inspiration
Allrecipes – Your Kitchen Inspiration for iPad is the cooking app you have been waiting for!
Must-Have Recipes from Better Homes and Gardens
Now you can get all the best-of-the-best recipes, secrets and tips — inspired by our famous Better Homes and Gardens Red Plaid cookbooks — absolutely FREE! In all, more than 500 recipes, with photos of every one.
Cupcakes are soooooo cute and awesome. Do you want to download 1000+ cupcake recipes? Prepare the best cupcakes for birthdays, parties, weddings, Halloween, Easter, Christmas, St. Patrick's Day, New Year, baby shower, etc. We select cupcakes recipes in one app.
5400+ Recipes Cookbook – Browse the cookbook from appetizers to soups, salads to non-veg recipes, kid's fun recipes to Health & diabetic recipes. All kind of Recipes in one app you will not find anywhere.
Download Dash Recipes for the iPad today. Dash is America's most widely read food magazine, and now has begun sharing our fast – simple – delicious recipes for free on the iPad. Check out our special Grilling Guide, or find your favorite Food Festivals; you get those special issues plus expanded content every month. Make it easy on yourself, and subscribe today.
Seamless Food Delivery and Takeout
Still calling restaurants? Hang up the phone, and discover the fastest and easiest way to order food for delivery or pickup. This all-new version was recreated with ingredients based on tons of feedback from our loyal customers. Seamless is the easiest way to order food from 11,000 local restaurants in 40 cities, putting the power of cuisine choice in the palm of your hand (and hopefully on your iPhone home screen). With just a few taps, have the restaurant foods you love delivered to your door!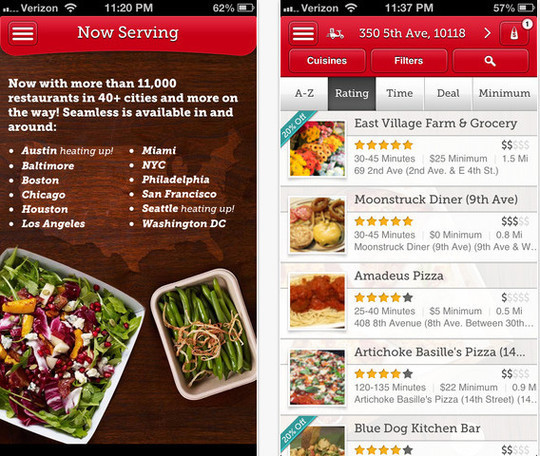 Discover and save delicious recipes and amazing restaurants. Document all your cooking and dining experiences with photos and notes. Share your beautiful meals with the world.
Food Network Magazine's cheese-themed March issue is packed with over 100 cheesy recipes, including Italian classics, homemade pizza and 50 kinds of mac & cheese. Plus, get the stars' best cheesy recipes, over-the-top cheesecakes and a guide to the United States' cheesiest attractions.
Treat yourself to the most appetizing app on the planet—the iFood Assistant. Delicious at your fingertips. Version 4.1 – Voice-enabled, easier to use, new design and added features.
Food Network Canada Recipes, Grocery Lists & More
Get your next great meal idea on the go with Food Network Canada. Find thousands of recipes, share recipes with recipes with friends, save your favourites, and create grocery lists.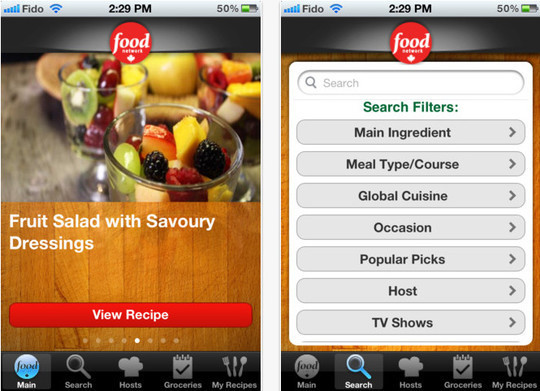 This iPhone app is the mobile companion to foodgawker.com, a photo gallery that allows you to visually search and discover new recipes, techniques and ingredients to inspire your culinary adventures. We publish food photography submitted by food bloggers from around the world. Our editors review hundreds of submissions daily and choose the highest quality, most appealing images to showcase.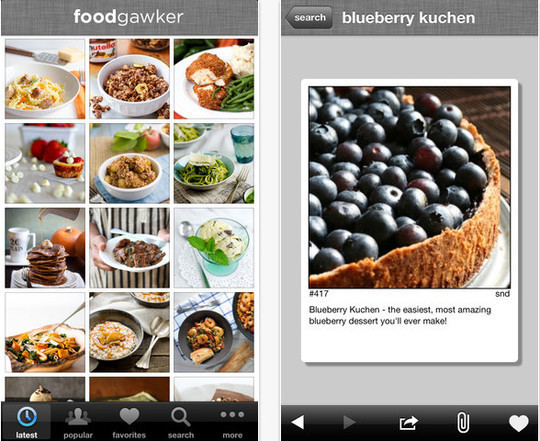 OpenTable is the only app that helps you book a table at more than 20,000 restaurants in the US and Canada. Plus, members can earn dining points to pay for meals at any OpenTable restaurant.
Eden Recipes features 1,100+ Eden created, kitchen tested recipes. Browse by course, cuisine, diet considerations, ingredient, or keyword. Create favorites list, email to friends, and share on Facebook. Nutritional information for each. Recipe images updated weekly.
Best Recipe Finder – TasteBook
Download TasteBook's free Best Recipe Finder and discover why Daily Candy called TasteBook iTunes for Recipes. This is the essential recipe app for your iPhone/iPod Touch from TasteBook.com — the best place to find, organize and share your favorite recipes.
iFood.tv video recipes and food diary
iFood.tv brings over 40,000 trustworthy recipe videos to add happiness to your life. Install this app now to get delicious recipes filtered to match your taste and watch what you like totally FREE.