Today, we are listing 13 Free Web Applications That Helps You To Create And Host Your Website when you want to create website for yourself or for your clients. To use these web applications you don't need to be a designer or developer or don't need any technical knowledge. You can create multiple types of website using them, few of them are offering flash based websites while few of them are static, and some of them have functionality to create blog and photo gallery as well. Most of them are not very well known but they are really amazing in respect to their features and functionality. I am not going to add WordPress and Blogger in this list as you already know about them. and Just take a look at them and share your thoughts here. Enjoy creating your absolutely free website now!
You are welcome to share if you know more free web application to create website that our readers may like. Do you want to be the first one to know the latest happenings at SmashingApps.com just subscribe to our rss feed
Wix – Create a free website,  Free MySpace layouts & Flash MySpace layouts
With Wix you can create a free website or  make free MySpace layouts and Flash MySpace layouts. It's the simpler, faster, better way to build & design on the web.
Weebly – Create a free website and a free blog
Weebly is the easiest way to create a free website. From personal to professional sites, Weebly will enable you to spend your time on the most valuable part of your site, its content. You can create free website and free blogs.
Google Sites is a free and easy way to create and share webpages. This is powerful enough for a company intranet, yet simple enough for a family website as well.
Freewebs – Make a web site with photo albums, blogs, videos, forums and more!
Make a website in minutes with simple tools for individuals, groups, or small businesses to share photos and videos, open a store, and build a member community.
SynthaSite – Free Website & Hosting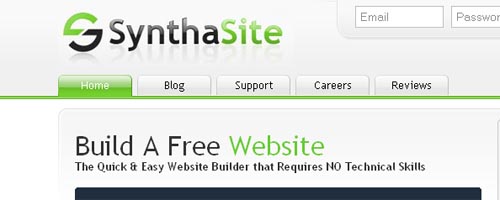 You can build a free website with SynthaSite. This is really quick & easy website builder that requires no technical skills to create your new website thats will look more professional and beautiful.
Viviti – build a website as unique and dynamic as you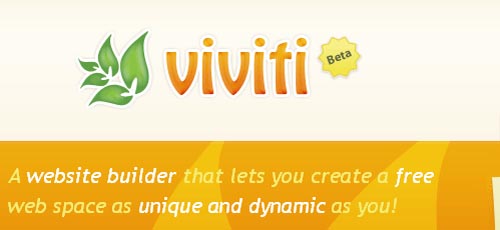 Viviti is the fastest way to make a professional, easy to update, web site with only a few clicks. You'll have your web site looking great and online in minutes!
Jimdo – Create your free website
It's really easy to create your own JimdoFree-Page free website, you will need to just sign-up, follow the link to your own Page, integrate pictures, videos and texts in seconds, change the design with a click, add as many pages as you want and show your swifty JimdoFree-Page to your friend.
Tumblr – The easiest way to share yourself
Tumblr makes it effortless to share text, photos, quotes, links, music, and videos, from your browser, phone, desktop, email, or wherever you happen to be.
Webon free websites and free website hosting
You can build the dynamic, stylish, and ad-free site you've always wanted with Webon's powerful site creation platform.  You can embed widgets from services like YouTube, Flickr, and Slide. Developers can even extend Webon's library of add-ons using the OpenSocial standard.
Webnode – Build a free website and create a free blog
Webnode brings you a brand new innovative way of creating and editing advanced websites by just using a web browser. By using Drag-and-Drop from the toolbar you can add new content such as polls, forums, articles, catalogues, widgets such as PayPal and much more.
Edicy – Build and edit websites with ease
Edicy is so easy to use you can build a site for your business or organization and have it live on the internet in a matter of minutes. All the tools are available online with no additional software required, just pick one of our beautifully made designs, enter your text, add your images and then publish your site to your own custom web address, it's that simple.
As you move objects on your page in WebSketch, others move out of the way automatically for you. The end result is a clean, crisp and clear layout that looks great.
Microsoft Office Live Small Business' – Web site Design and Hosting
Microsoft Office Live give you free Web hosting, easy-to-use design tools, and site traffic reports, They also provide everything you need to look professional on the Web, as well as free, around-the-clock support.