Today, we are showcasing 12 best social sharing plugins for the WordPress. If you are a blogger then WordPress is the best option for you and if you want more traffic on your blog then you should use social media sites. By using different social media websites, you can share your content with millions of users and thereby can get huge traffic on your blog. Your online earning can also be increased by using social media sites.
We hope this list would be of great assistance for the bloggers or writers. Enjoy this amazing collection everyone and feel free to share your opinions and comments with us via comment section below.
AddThis Share Buttons help drive traffic to your site by helping visitors share, bookmark and email your content to over 330 services.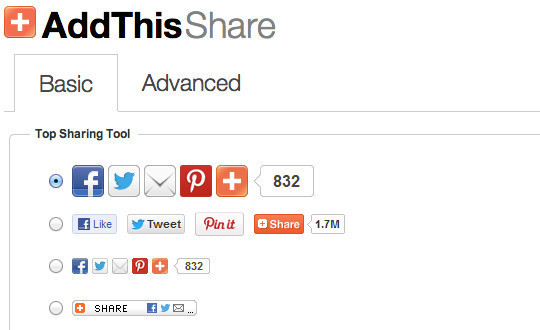 Share Buttons and Social Analytics
Social Charge your Content with ShareThis – features Social Analytics, CopyNShare, Open Graph Sharing, and the Hovering Bar!
Adds an attractive social bookmarking menu and related content widget to your posts, pages, index, or any combination of the three.
Easy 2 Use Plugin 2 Show SocialMedia Icons That Floats,Can Configure Social Icon Design,Order & Size at Plugin Settings, Suport Widget & Short.
Automatically publishes your new blog content to Social Networks. Auto-updates Twitter,Facebook,Linkedin,Tumblr,Diigo,Delicious.
Po.st boosts social sharing, provides detailed analytics and monetizes the sharing that is already happening on your site.
Super lightweight, simple, nice, modern looking and effective social sharing and following buttons and icons on your site without the extra burden.
Allow your visitors to comment and login with social networks like Twitter, Facebook, Paypal, LinkedIn, LiveJournal, OpenID, VKontakte, Google, Yahoo.
Let your users share via their accounts on popular social networks such as Facebook, Google, Twitter, LinkedIn, Vkontakte and over 80 more!
Share buttons for WordPress including AddToAny's universal sharing button, Facebook, Twitter, Google+, Pinterest, StumbleUpon and many more.
Adds links to all of your social media and sharing site profiles. Tons of icons come in 3 sizes, 4 icon styles, and 4 animations.
Slick social share buttons adds facebook, twitter, google +1, linkedin, digg, delicious, reddit, stumbleupon, buffer and pinterest pin it social media.