Now and then I keep discovering interesting websites that I share with my friends. These sites range from helpful utilities to simple games; whatever their category is, the sites are surely great finds.
I decided to share with you all 10 of the recent wonderful websites I discovered. Like I mentioned before, they cover different categories and you will find each of them helpful in one way or another. Check them out below.
Emailerr gives you a PNG image of any email address you type. Sharing the image instead of typing your email on websites will prevent spambots from detecting your email address and spamming it. In addition to the image you get its permalink, JavaScript code, and HTML code.
Klowdz is a drawing website that lets you sketch drawings on a backdrop of clouds. Various cloud settings are provided and so are various colors and sketching brushes. You can put your creativity to the test and produce amazing results which can be shared with others.
For people with regular phones that let them only send and receive phone calls and text messages, checking their email on the phone is impossible… unless of course they are using TxtJet. Through TxtJet you can have your emails sent to you via text messages – a greatly convenient service for regular phone owners.

Knoword is a cool vocabulary testing and building game. It asks you to type certain words with their meaning and first letter given. A timer checks your speed and sees how many words you can get in.
isNSFW translates to "is not safe for work." It is a URL shortener for NSFW URLs. In addition to shortening your URL it lets you categorize the URL as Offensive, Gore, Nudity, or XXX. When a visitor clicks on the shortened URL he is first shown that the content belongs to one of these categories. This way if the link is being opened at work or some other sensitive place, the person will be more careful.
DaysToPay helps you find how long you will need to work in order to purchase a particular item. You start by entering the item's price along with your salary rates, region, and other information. The time before you will have the purchasing money is quickly calculated and shown.
If you have lost your cell-phone in your apartment and do not have another phone, you can use PhoneGetters to call your cell-phone. By listening to the ringtone your phones sounds off, you can easily locate it. PhoneGetters works for US numbers only.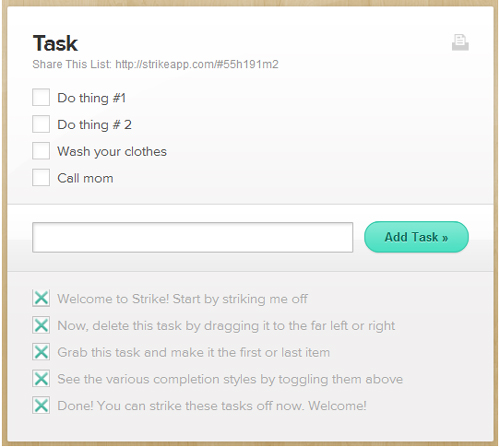 StrikeApp is a wonderful to-do list manager that works within your web browser. Your tasks lists are given a unique URL that can be visited and edited from anywhere. Color themes, different view styles, and user-friendliness make StrikeApp an excellent website.
PicScatter is for all Facebook users who want to have fun with the way Facebook shows photographs on one's profile. Through this tool you can take a big image and break it down into parts so that the pieces, when uploaded to your Facebook, give the impression of a single image on your Facebook profile.
CrocoDoc is an excellent online tool to share and annotate PDF files. If your friends do not have PDF file reader, you can upload the file to CrocoDoc and it will become viewable in the site's HTML5 interface. The PDF file can also be annotated. The original and annotated versions can be downloaded separately by visitors to the PDF's URL.