Running a business today is not as straightforward as it once used to be. This is primarily because one needs to maintain records of every transaction that has occurred. Because there are many transaction and of different types, organizing and managing them becomes difficult. To help business owners in this area, there are a number of options available. WorkingPoint is one of those options.
WorkingPoint is a web service that manages transactional records for its users. You start by creating an account on the site. During your signup, you specify a domain name that will generate a unique login page.
The URL will be of the form https://domainName.workingpoint.com/home. You can add other users to your account that can view and add transactional details. The following options are what you get each time you login; you can choose to disable them on startup.
This is how your WorkingPoint dashboard will look like: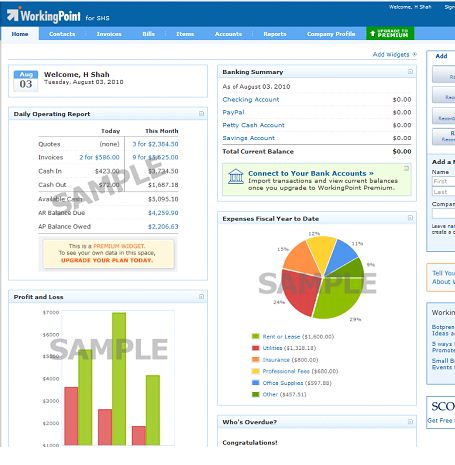 You can import your history of transaction through your bank account or credit card online. You can then sort your transactions, classify them, and observe how your dashboard reflects the changes. Contacts can also be added to your WorkingPoint account. You can add clients or business contacts with ease.
Overall, the site is a great convenience to its users. As one satisfied customer puts it, "Best $10 I could ever spend on the internet. I love your product because it allows me to focus on my business and not the business of doing business."
The site has a paid plan as well as a free one. It would be advisable to test the free service before signing up for the paid one.