Businesses have to deal with invoices all the time. Invoices need to be customized according to the client. After creating an invoice, a business needs to keep a record of it. Thus if you are running a business you could surely use tools that help you easily create and manage invoices.
Fortunately for you, today's list covers exactly those: 6 helpful tools that create and manage invoices. Check them out below.
You are welcome if you want to share more online invoice creation applications that our readers/viewers may like. Do you want to be the first one to know the latest happenings at SmashingApps.com, just subscribe to our rss feed and you can follow us on twitter and follow us on Digg as well to get updated.
InvoiceToMe is one of my favorite invoice creation web tools. It loads a predefined invoice in your browser window. All you have to do is click on the fields to edit them. You can add items by their rate and quantity; then specify the tax percentage; the total amount is automatically filled in by the invoice. You final invoice can be downloaded as a PDF file.
Cronsync is a thorough invoice management solution. By using the service you can maintain a list of clients and the invoices you sent to them.
Invoicera is another thorough invoice management tool that small businesses will really benefit from.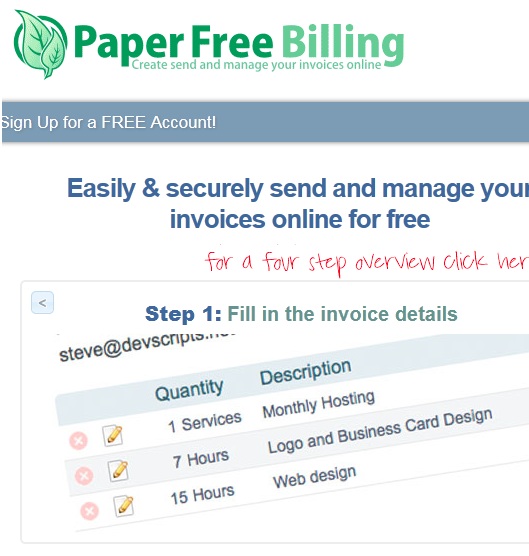 PaperFreeBilling is a valuable web service that helps you send invoice online to potential clients. By letting you send invoices online, in addition to creating them and managing them, the site helps you a great deal in the invoice department.
Billable is much like the first entry on this list. This web app lets you create an invoice by editing the fields on a template loaded up when you visit the site. Your finished invoice can be downloaded as a PDF file.
If you are looking for an invoice creation plus management tool, TradeShift is another you could go with. It lets you add items to your invoice along with their rates, quantity, and individual taxes.
SmashingApps.com participates in various affiliate marketing programs and especially Amazon Services LLC Associates Program, which means we may get paid commissions on editorially chosen products purchased through our links to any of the linked sites from us.