Are you a freelancer? Do you own a small business? If yes then you need a good invoicing software.
With so much competition around you need to be professional in all aspects of your work in order to survive.
You need a good self hosted website, a good theme, a professional email address and domain name, etc. Similarly your invoice needs to conform to some professional standards.
In 2006 a bunch of people set out to create an online invoicing solution for small businesses. That solution known as CurdBee is today used by thousands of freelancers and small business owners from more than 140 countries.
Hiveage is the spiritual successor of CurdBee. Hiveage is re-imagined and re-developed from scratch. It does everything faster and better.
Below I discuss some of the important features of Hiveage.
Simple and intuitive user interface
The creators of Hiveage understand that your business is your first priority. You can't spend hours after hours creating invoices and sending to clients.
Thus they have designed their software in such a way that it is intuitive and very easy to understand. There is no long or complicated learning curve.
Go and register and spend some time on the dashboard and you will soon get the knack of it.
They also supplement their design with lots of graphs and charts making it even easier for you to use the software and read the data.
The image below shows what I mean. It is a screenshot of one page of the dashboard.
These are merely example graphics and do not reflect my real bills but they convey what I am talking about. As you can see the way the data is presented in different colors and formats, this makes it very easy for the user to use the software.
Pay only for what you need
Do you need to watch Discovery Channel? Yes? Okay.
But do you need Cartoon Network? If you are busy with your business then perhaps not.
How nice it would be if your cable operator would allow you to choose the individual channels you really want and charge the bills accordingly?
Hiveage lets you do that.
As the screenshot above shows Hiveage lets you choose out of many different options. The price for each feature is also displayed beneath each option.
All these features are quite useful and see which ones suit you the best.
For example the feature named Recurring Billing will let you send out bills automatically. If you have some clients whom you charge a fixed amount every month then this feature will help you automate that process. Recurring Billing will automatically send out invoices to different clients as per your setup instructions.
If your client insists he will send payment only through Authorize then you can activate the feature named Authorize.Net and start using that merchant account.
Thus unlike other invoicing software which thrust their plans on you, Hiveage allows you to create your own plan.
Localization with many languages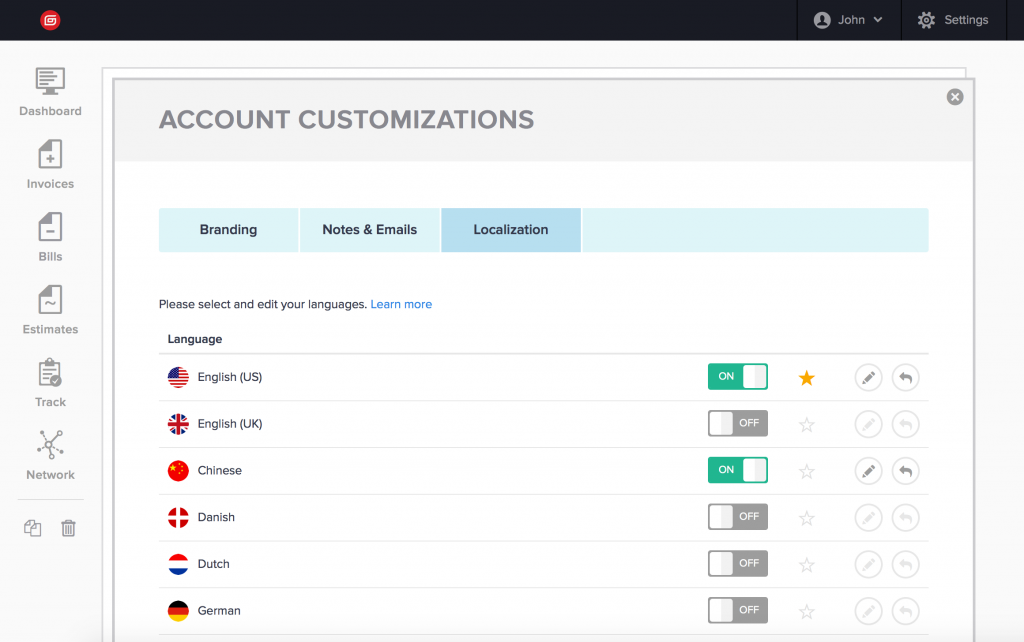 Hiveage is currently available in 18 languages and the developers are working to include more languages soon.
At present this feature only supports invoices, estimates and receipts and you cannot translate the user interface or in-app messages yet.
The client can see the translated statement when he will click on the link to the invoice which appears in the notification email.
The primary language is automatically applied to all new connections by default, and you can change this to any of the enabled languages when adding or editing a connection.
For example, if you use English primarily but would like to send an invoice in French to a particular client, you can enable French from your Localization section, and then select Spanish as the language for this client from their business profile in the Network section.
On Dec 1, 2014 Hiveage is coming up with a huge discount deal.
Hiveage Big 5 is a plan which allows five different users to use the software with every feature included. They typically charge $299.95 per year for this plan however on Dec 1 they will allow you to purchase it for $199.95 per year.
Additionally they will honor this commitment forever, no matter how much their pricing changes in the future.
Please note that this deal works on a first come first serve basis. And there are only 100 slots available. So you will have to be quick to avail this opportunity.
You may want to register on the site by submitting your email address so that you will be alerted as soon as the deal goes live.
So go and take a look at the website. It is worth checking out. I hope you won't be disappointed.
Drop in a comment below telling me your thoughts about Hiveage.