Few days ago, we have discussed about Lunascape. Today we are covering it again because Lunascape is now compatible with the expanding array of Firefox add-ons  in addition to the already supported Internet Explorer add-ons and Lunascape plug-ins. Transferring your add-ons from Firefox 3.5 is very easy.
In the above screenshot, you can see Firefox add-ons FoxTab and Firebug used with Lunascape 6 Beta gecko engine but officially they do not  ensure the quality of each add-on.
Lunascape6 Beta achieves the utmost extensibility without compromising one of the fastest speeds in the market. You can browse fast while enjoying ample add-ons.
A new interface mode, ORION, comes with version 6. This sleek minimalist interface has all the basic functions and will get you going in no time. In addition, we have created a simple yet highly functional add-on toolbar. All of your add-ons will be organized neatly in appropriate places without impeding your Web browsing.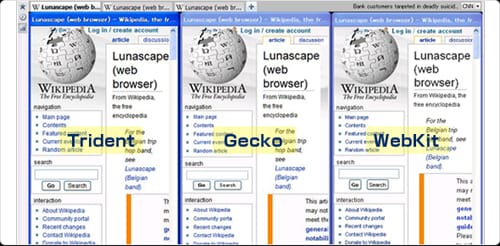 Now that you can operate tabs with various split displays, it is easier than ever for Web designer and developers to check their creation side-by-side to ensure browser compatibility.
The revamped floating sidebar of Lunascape can be really handy. For example, if you use two monitors, you can show the sidebar in another monitor. You can also use multiple Firefox sidebar add-ons at a time.
Lunascape 6 is currently released as beta version that is still in development stage and made available to obtain user feedback to further develop the official version of the product.
Key new features include:
Firefox Add-on Compatibility – Firefox add-ons can be used seamlessly with Lunascape's gecko engine. It is easy to transfer existing add-ons and add new ones to Lunascape. A smart add-on organizer has also been added to the toolbar to prevent clutter.
Refined User Interface – Newly added design, Orion, is sleek and simple yet has all the basic functions users would need to get started right away.
Split Tab Display – A web page can now be shown in 3 different rendering engines side-by-side for easy comparison. Web designers and developers in particular will benefit both from this feature as well as the ability to use the ample set of development add-ons for Firefox. (e.g. Greasemonky, Firebug, etc.)
Sidebar 2.0 – The floating sidebar can handle multiple sidebar add-ons (e.g. minimap) at a time and can be separately displayed anywhere including another monitor.