The beta for Firefox version 4 was recently released and it has already created a buzz on the web. While many of its features will already demonstrated in its nightly builds, the beta more widely showcases these new features.
Release notes for Firefox v4 outline all the features which web developers and ordinary internet users will find helpful. To know what exactly these features are, read on:
Tabs are now on top by default on Windows only – OSX and Linux will be changing when the theme has been modified to support the change.
On Windows Vista and Windows 7 the menu bar has been replaced with the Firefox button.
You can search for and switch to already open tabs in the Smart Location Bar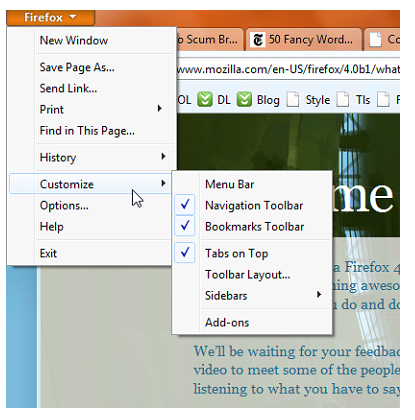 New Addons Manager and extension management API (UI will be changed before final release)
Significant API improvements are available for JS-ctypes, a foreign function interface for extensions.
The stop and reload buttons have been merged into a single button on Windows, Mac and Linux.
The Bookmarks Toolbar has been replaced with a Bookmarks Button by default (you can switch it back if you'd like).
Crash protection for Windows, Linux, and Mac when there is a crash in the Adobe Flash, Apple Quicktime or Microsoft Silverlight plugins.
CSS Transitions are partially supported.
Full WebGL support is included but disabled by default at this time.
Core Animation rendering model for plugins on Mac OS X. Plugins which also support this rendering model can now draw faster and more efficiently.
Native support for the HD HTML5 WebM video format.
An experimental Direct2D rendering backend is available on Windows, turned off by default.
Web developers can use Websockets for a low complexity, low latency, bidirectional communications API.
Web developers can update the URL field without reloading the page using HTML History APIs.
More responsive page rendering using lazy frame construction.
Link history lookup is done asynchronously to provide better responsiveness during pageload.
CSS :visited selectors have been changed to block websites from being able to check a user's browsing history.
New HTML5 parser.
Support for more HTML5 form controls.
As you can see, many interface changes have been made to make usage a lot more user friendly. At the same time, great web development features have been added with a special focus on HTML 5. For a full list of features for developers, you can click here.
Firefox enthusiasts, who are interested in what else Firefox has to offer, can get the unofficial beta 2 of Firefox v4; this beta is available from FTP server and is a follow-up to the current publicly available beta. Beta 2 offers even more features however has addons disabled by default, to prevent addon-related browser crashes. To enable addons support in Firefox v4 beta 2, install the "Add-on Compatibility Eeporter" addon, then restart Firefox twice. Type in "about:addons" in the URL bar which will open up the Addon Manager and let you use addons.