If you feel that your instant messaging client is not satisfying your video chat needs, do not try downloading and installing any other applications. Give video chat facilitating websites a try. You are bound to find something that will let you video chat the way you want. The best part is that you will not have to install any new applications on your computer.
The internet has many video chat websites. In case you are looking for one, do not spend time searching on the web; simply give my list of top 12 sites for video chat a read. You will find the list below. See which site suits you best.
Tip: You can make sure everything you type is clear, effective, and mistake-free with Grammarly,  It scans your text for common and complex grammatical mistakes, spanning everything from subject-verb agreement to article use to modifier placement.
1. EkkoTV
If you are already familiar with video chatting sites and want something more, then visit EkkoTV. On the site you can have a 3 people video conference. This is great for chatting with 2 friends at the same time. Click here to visit EkkoTV.
2. RandomDorm
This video chatting website is for college students. You need to sign up using your college's email (ending with EDU or AC). You can use this site to fine students from other or even your own universities. Click here to visit RandomDorm.
3. StreamFame
SteamFace is a site to tell show the world how entertaining you can be. You can choose to have your webcam broadcast video to the website; your feed is kept active unless more than 50% of your audience votes you down. Click here to visit StreamFame.
4. ChatRide
ChatRide is a more traditional video chatting website. You can create a chat room and share its URL with another friend to video chat. Only one on one video chat is possible. Click here to visit ChatRide.
5. Imo.im
This website is a collection of web messengers for popular instant messaging clients. In case the person you chatting with supports video chat, you can use Imo.im to initiate one on one video chatting. Supported services include MSN, AIM, Yahoo, Skype, Google Talk, MySpace, and Facebook. Click here to visit Imo.im.
6. MeBeam
MeBeam is another traditional video chatting site that lets you create a video chat room to which you can invite others. Visit MeBeam here.
7. BoostCam
BoostCam focuses on speed. You can start video chatting rather quickly. After gving the site access to your webcam, it creates a temporary URL which you share with people to video chat. Click here to visit BoostCam.
8. Confabio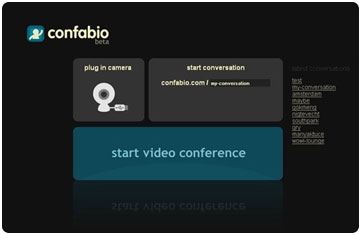 Similar to BoostCam, Confabio lets us create a chat room of which the URL can be shared to invite others. Click here to visit Confabio.
9. WooMe
If you are hoping to find a special someone through video chatting, pay WooMe me a visit. The site helps singles get to know other singles through video chatting. Visit WooMe here.
10. Chatroulette
Even if you have not video chatted before, you must have heard of Chatroulette. It is a highly popular speed-video chatting site. Random connections are made between two people; this connection can be terminated by any party anytime. The site is highly addictive and has a very simple interface. Visit Chatroulette here.
11. TinyChat
TinyChat is a great video chat site especially for Twitter users. Visitors can sign in with their Twitter accounts, create a video chat room, then invite up to 10000 people to video chat with them. Visit TinyChat here.
12. 6rounds
Chatroulette might be addicting for many people but it provides very few options to play around with. 6rounds expands the Chatroulette concept and does a wonderful job in helping you find new friends online. The interface is very user friendly and new features are constantly being added to the site. Click here to visit 6rounds.
SmashingApps.com participates in various affiliate marketing programs and especially Amazon Services LLC Associates Program, which means we may get paid commissions on editorially chosen products purchased through our links to any of the linked sites from us.