There are many Microsoft Windows apps out there, but getting by free and good ones is not that easy. That is why I am sharing The Lesser Known (But Very Cool) Windows Apps You Might Be Looking For. Read each entry in the list and see which tool suits your needs best.
You are welcome if you want to share more Mac OS X Apps that our readers/viewers may like. Do you want to be the first one to know the latest happenings at  SmashingApps.com, just subscribe to our rss feed and you can follow us on twitter and follow us on Digg as well to get updated.
DriveImage XML is an easy to use and reliable program for imaging and backing up partitions and logical drives.  Image creation uses Microsoft's Volume Shadow Services (VSS), allowing you to create safe "hot images" even from drives currently in use. Images are stored in XML files, allowing you to process them with 3rd party tools.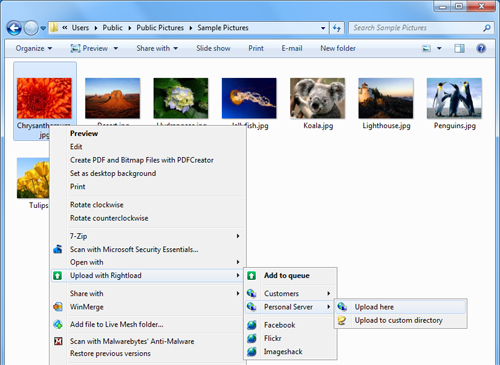 Rightload is a small program that allows you to quickly upload files directly from a Windows folder to your server. Instead of using complicated software just to upload a few pictures, you just right-click on the files, select the server and target folder and Rightload will do the rest for you. Rightload supports Facebook, Flickr, Tinypic and Imageshack as well as FTP and HTTP servers.
Accidentally deleted an important file? Lost something important when your computer crashed? No problem! Recuva recovers files deleted from your Windows computer, Recycle Bin, digital camera card, or MP3 player. Even if you've formatted a drive so that it looks blank, Recuva can still find your files on it.
AxCrypt is free and easy to use open source strong file encryption for Windows 2000/2003/XP/Vista/2008/7, integrated with Windows Explorer. You can encrypt, compress, decrypt, wipe, view and edit with a few mouse clicks.
SyncBack is a freeware program that helps you easily backup and synchronize your files to: the same drive; a different drive or medium (CDRW, CompactFlash, etc); an FTP server; a Network; or a Zip archive.
ADRC Data Recovery Software Tools contains a collection of DIY data recovery tools that supports a wide variety of drives and file systems. The software incorporates extremely simple GUI with novice users in mind. The software zooms in to do only critical recovery functions with minimum complexity so one could recover the data easily. It gives you full control to undelete files, disk image back up, restore a backup image, copy files from hard disk with bad sectors, disk cloning, backup, edit and restore your boot parameters.
Fences is a program that helps you organize your desktop, and can hide your icons when they're not in use. A "Fence", a term coined by this program, is an icon group on your desktop. Fences is an add-on to your desktop, not a replacement.
SmashingApps.com participates in various affiliate marketing programs and especially Amazon Services LLC Associates Program, which means we may get paid commissions on editorially chosen products purchased through our links to any of the linked sites from us.