This is one of the very best list of its kind where you can find the iPhone version of popular apps. I hope everyone of you will love them whether you are an office worker, a manager, a supervisor, a student, a home user, designer, developer etc. This is the list of The 10 Most Popular And Useful iPhone Apps. Just take a look at them and share your thought's here.
You are welcome to share more useful iPhone versions of  software that our readers/viewers may like. Do you want to be the first one to know the latest happenings at SmashingApps.com just subscribe to our rss feed and you can follow us on twitter as well.
You can download the iPhone App and then sign into Skype from any WiFi zone and reach friends and family free with Skype-to-Skype calls.
Photoshop.com Mobile App For iPhone
It's easy to use the Photoshop.com Mobile App on your iPhone. Simply drag your finger to crop, adjust color, apply effects. You can crop, rotate, change color with just a touch, give an extra glow with Soft Focus, apply one-touch effects like Warm Vintage and Vignette etc.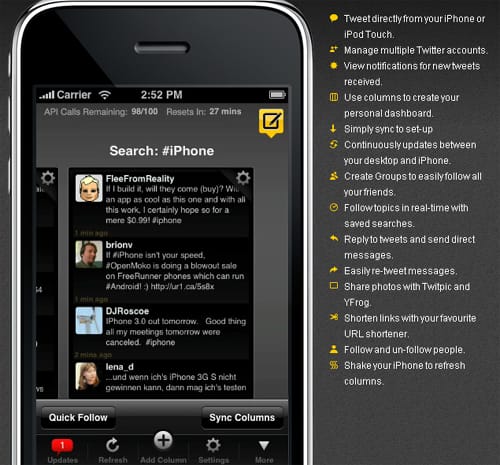 TweetDeck is your mobile browser for staying in touch with what's happening now on Twitter from your iPhone or iPod Touch. TweetDeck shows you everything you want to see at once, so you can stay organised and up to date no matter where you are.
QuickBooks Online on the iPhone
QuickBooks Online for the iPhone now lets you add and edit customers, vendors, and employees, create and email invoices, view balance sheet and profit & loss reports,  access vendor, customer, and employee lists, view bank account and credit card balances,  understand who owes you money and who you etc.
Dropbox is the easiest way to store, sync, and, share files online. You can access your Dropbox on the go and download files for offline viewing. There is an option to sync photos and videos to your Dropbox and to share links to files in your Dropbox.
Facebook is a social utility that connects people with friends and others who work, study and live around them. Facebook for iPhone will help those people to stay connected when they are away from their computers but would not like to away from facebook.
With Google Earth for iPhone and iPod touch, you can fly to far corners of the planet with just the swipe of a finger. You can explore the same global satellite and aerial imagery available in the desktop version of Google Earth, including high-resolution imagery for over half of the world's population and a third of the world's land mass.
Waze is a free social mobile app that enables drivers to build and use live maps, real-time traffic updates and turn-by-turn navigation for an optimal commute. 100% powered by users the more you drive the better it gets. Join the community of drivers in your area today.
Twitterrific is the iPhone's premiere app for reading and posting to the Twitter social network. The software has been designed to provide ease of use and a wide range of features while sporting one of the most elegant user interfaces available.
SmashingApps.com participates in various affiliate marketing programs and especially Amazon Services LLC Associates Program, which means we may get paid commissions on editorially chosen products purchased through our links to any of the linked sites from us.