There are many iPad/iPhone apps out there, but getting by free and good ones is not that easy. That is why I am sharing Ten Worth Using iPad Apps You (Probably) Never Used Before. Read each entry in the list and see which tool suits your needs best.
You are welcome if you want to share more free iPad apps that our readers/viewers may like. Do you want to be the first one to know the latest happenings at  SmashingApps.com, just subscribe to our rss feed and you can follow us on twitter and follow us on Digg as well to get updated.
The CashFlow Free is a simple cash management software. You can manage your daily cash income/outgo, and can fix balance with simple operation. You can input description of transaction from history, much less keyboard operation.
Craigslist has never been this fun to browse, thanks to the amazing iPad hardware and Craigsphone's new listing pane.
QuickVoice is the most popular, full-featured iPhone/iPad voice recorder available. Record ideas, voice memos, voice email, dictation, lists, meetings, classes, or entire lectures. This is great for professional, educational, and personal
use.
iPDF Reader is the world's slimmest eBook and PDF reader, now available for the iPad and offered for free to celebrate launch day. With this you can read books and PDF's on the fly, search a boundless library of books and pdf's from
all over the world and from every possible subject matter and much more…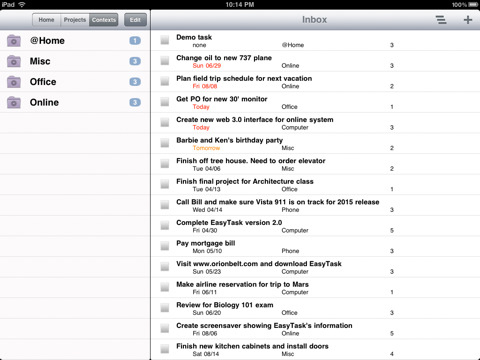 EasyTask is personal task manager. It is very simple and easy to use user interface. EasyTask manager supports the GTD (Getting Things Done) method. You can also run it on Mac or Windows.
The Weather Channel Max for iPad
The Weather Channel Max for iPad delivers in-depth weather, innovative maps, a robust video library.
Uploadingit.com iPad app will give you 20 GB of free online storage to host any file you want and have access to it on your iPad from any location in the world at any time. You can upload Pictures, Documents, Videos, Music and so
much more to your account.
Calculator XL is a great free calculator that takes advantage of the iPad's large screen and support for all orientations. It has all the common calculator functions including memory that is saved on exit.
When you come across an article or a webpage you'd like to read but can't at that time, save it to your Read it Later list. You can then read it whenever you have a moment, on the couch, in your commute, on the plane, train, or practically
anywhere.
This app allows you to ask, "What deals are available around me right now?" SuperSaver.com then finds and presents to you coupons, promotions, ads, and announcements from a variety of merchants selling what you want when you want it.