Computer users share content in multiple ways. In addition to emails, file hosting sites, and social networking websites, there are other innovative ways being created to share stuff with your friends. One such new innovative sharing technique makes use of barcodes on products.
Barcodes have unique patterns to them that can act as a code. This code can be used to store any information and then be provided as a key to access that information. This is what Stickybits takes advantage of.
—————————–Recommendations; Please continue reading below——————————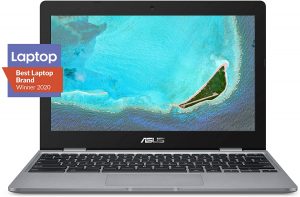 ASUS Chromebook C223 11.6″ HD Laptop Shop Now
This Asus HD Laptop is an amazon's choice for 'chrome computer laptop' is reviewed by 980+ reviewers that is available at only $249.99. It is ready for productivity and performance while being on the go or travelling, with speedy performance, robust security, and convenience for the user. This laptop has Lightweight 2.2 pound body and with thin and premium metallic finish for a sleek appearance having 11.6 inch HD 1366×768 Anti-Glare Display. The machine is powered by the Intel Celeron N3350 Processor (2M Cache, up to 2.4GHz) for fast and snappy performance including 4 GB DDR3 RAM; 32GB eMMC hard drive; No CD or DVD drive with it. Learn more about this product >>>
Stickybits is a free application for iPhones and Android-running smartphones. Imagine uploading a file on the web and giving its URL to your friends so that they can download the file. Stickybits lets users scan or print barcodes to attach information to them. This information can be in any form; you could attach a video to the barcode, a text file, photos, etc. When other people will scan the barcode using their Stickybits app, they will be able to see all that is attached with the code.
According to Developers:
What is stickybits?

stickybits allows people to attach digital content to barcodes. When those barcodes are scanned (via our iPhone or Android apps), you'll see all the content that has been attached. What makes us unique is that all this is done in a social and fully open read/write way.

What does that exactly mean?

Imagine putting a barcode on your business card that when scanned showed your resume. Or put a stickybits sticker into a birthday card and record a personal video. Then when your friend scans it, they'll see the video. Take that one step further and have all your friends attach videos to the same card. You'll also get notified when it gets scanned.

It doesn't just stop there. Something unique and strange is happening with the barcodes all around you. People are scanning soda cans, cereal boxes, beer bottles, etc. and adding digital content to them. Since each unique product shares a barcode, little communities are popping up around each of these products.
You probably had not thought that barcodes could be used as keys for our information – that is exactly what makes Stickybits so unique. On a box of a cooking ingredient, the barcode could have many recipes attached to it. A user could attach a detailed résumé to a custom barcode and then print that barcode on each of his business cards. These are only few of the endless possibilities of Stickybits.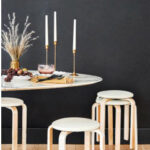 —————Recommendations; Please continue reading below————— Space-saving Furniture Shop Now
If you want to maximise space in your home, office or home-office with flexible furniture that collapses, folds, and stacks to fit every room, you can click here to see the wide range of space-saving furniture. Click here to learn more >>>
Click here to visit Stickybits' website . Get Stickybits for iPhone or Android.