Many people believe that news channels keep their sponsors' interests in mind and broadcast biased views on news. It is believed that the simplest solution to this is user-generated news: news reported and shared by average people. Of course if you have something about your area to share, it might be quite some time before your local news channels airs it, if at all. This is exactly why online user-generated sources are great to publish and share news.
One such online source is MaYoMo.
MaYoMo is a great user-generated news website. It derives its name from "Map Your Moments." Visitors to the site find a map on the homepage with red dots spread out geographically.
These red dots represent active news in the areas they are placed on. You can hover your mouse pointer over any red dot and a preview of the news will be shown.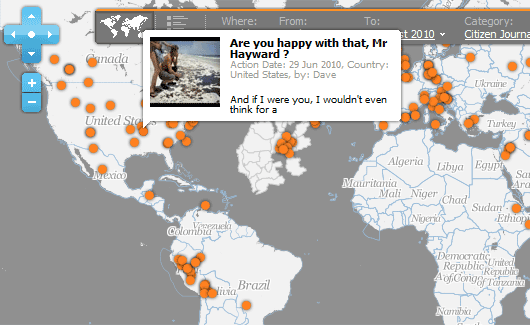 You can click on the red dot to display the news details which can include text, pictures, audio, and video. The news might be in a non-English language; you can figure this out by reading the text in the preview.
If you would like to view news according to your interests, you can filter the global news according to the category that interests you. Choose the news genre at the top of the global news map. The website also provides visitors with the option to filter news by their date. This can be done via a slider present at the bottom of the global news map. You can create an account on MaYoMo to submit news you have.
Overall, MaYoMo is a wonderful news website that can help you stay aware of what is going on in the world. Check out MaYoMo.