YourFonts is a Free online font generator that allows you to create your own OpenType fonts within a couple of minutes. Go make your own handwriting as a font.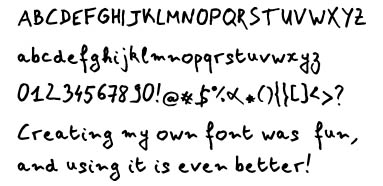 YourFonts allows you to upload large templates (up to 4000 x 5000 pixels) and it has the most advanced raster to vector conversion algorithm. Yes, this service is 100% free, no hidden fees and no strings attached.
You Might be Interested to Checkout These!
Features:
Your own handwriting turned into your very own font for free
Optionally include your signature
You'll have your very own font within 15 minutes
Make as many fonts as you like
Use your fonts on Windows, Mac OS X and Linux
Personalize your digital scrapbook pages
Make your own "family handwriting history"
Use your fonts in Microsoft Word, PowerPoint and every program that you own