Nowadays, Search is the basic mechanism which drives the Internet space. If you surf the internet quite often, you really can't live without using a search engine. People use search engine in a variety of ways, from searching images, videos, texts, products and so on.
A Search engine like Google, Ask and Yahoo lets you quickly find relevant information, blogs and websites. You can use them to find information on any subject or product, just go to a search engine's home page, type some text in the search box and hit the return key to get a list of webpages which may contain the information you are looking for.
But what if you need to use multiple search engines? What if you need to search videos in YouTube, search music in Last.fm , search books in Amazon simultaneously? You have to open multiple browser windows or tabs and open all these websites one by one. This can be tiring and confusing as well and for novice Internet users, this is not the most easy interface to deal with.
It would be far more convenient if we can use a single search engine to search multiple sites at once. And above all, the user should be able to do some customizations so that he can choose the features he likes and removes the stuff he doesn't.
The folks at Faviit have come up with just what you have been looking for ages – a customized search experience so that you can choose the features yourselves.
Faviit – Search Multiple Search Engines From One Page
Faviit lets you perform the same search on multiple search engines from a single page, thus saving you from the frustration of opening multiple browser tabs and typing the same words again and again. When you go to the Faviit.com homepage, you will see the following interface:
Don't fall for the background image, you can always change it later on.
To perform a search, just enter the keywords in the search box and hit the Search button. You will immediately see the search results load with results from different websites which include Google, YouTube, Bing, Amazon etc. Here is how a search result page looks:
You see those links in the sidebar, just click a site's name and Favitt will perform a search in that site and show you the results in the same page. Great!
For example, I searched for "iPad" and the Google search result page was shown (see the above screenshot). Then I thought "Ok, now I want to see some videos of the iPad". Hence I clicked the YouTube link in the sidebar and here is what I got:
You can already feel the difference, don't you? The video thumbnails are shown in the same page and clicking a link takes you to the video page straight away.
Quite similarly, you can search in news sources ( e.g Google News ) and micro blogging sites like Twitter, Digg or Q and A engines like Yahoo Answers. The interface works quite the same way, each search result being shown on your Faviit home page.
As you might have noticed, the search box consists of five tabs by default but you can always add other sites to the tab list. To search on other sources, simply click the "+" button placed at the right corner of the search box as shown below:
Next, type the words in the search box and click on a search engine to see the results. Another feature which Favitt offers is real time search results. When you do a search and if there are any images, Tweets, YouTube videos or news articles related to the searched keyword – it will appear at the bottom of the search results page.
Found an interesting search result ? Use the share buttons placed at the bottom of search results to share a link with your friends at Facebook, Twitter or other social sites.
Signing up for a Free account with Favitt
Signing up for a free Favitt account has it's own advantages. First, you can add your favorite sites as bookmarks and these bookmarks appear in the home page for quick browsing.
For example: I am a Facebook addict and when I get some free time, I visit my Facebook profile to see what my friends are up to. Favitt is my homepage and I have got Facebook and other social sites bookmarked as shown below: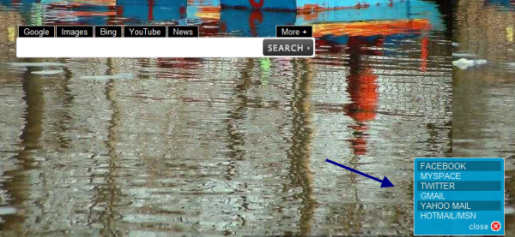 So I can access all the sites in one click and do not have to worry about browser bookmarks or manually type the address in the browser address bar.
Another advantage is that you get a personalized page such as http://favitt.com/bob, so just type that address from any computer and you get a personalized engine to start kick start surfing, that too on a customized environment. Signing up is pretty easy and you need just an email address to get it done.
The third advantage that Favitt offers is "backgrounds". Yes, you can choose a custom background for your customized Favitt homepage. Google, Yahoo and other search engines have boring backgrounds – just a white screen and a text box. Bing shows some images but you don't have control over the images and they are changed in random order.
With Favitt, you can either upload an image from your computer or grab an image from a publicly accessible web URL. Then you can use that image as the background of your Favitt homepage.
Here is an example:
Choosing a custom background gives a feeling of "being home" when you are surfing from a friends computer or an Internet café. Further, you can adjust the position of the search box and move it to any of the four corners.
The impressive thing regarding the images is that you can upload multiple images from your computer and Favitt will rotate them on a daily basis.
Conclusion
It turns out, Favitt gives you a customized environment for search and it's a better way to search and surf popular sources like Google, YouTube, Wikipedia, Amazon and the like.
Yes there are advertisements in the search result pages but all the search engines have ads in their SERP's. From Google to Yahoo, from Digg to Yahoo Answers – no one is an exception. But the advertisements at Favitt are far way from the search results and do not appear obtrusive.
The site is completely free to use so why not try it at least once ?