Kentico CMS for ASP.NET is a powerful and fully featured Content Management System. This robust and stable CMS can be used for building and maintaining websites including Intranets, Online Stores and Social Community Networks using the Web 2.0 features on the ASP.NET platform. In addition it comes with a Free Edition that might be used even for commercial purposes!
Let's find out what Kentico CMS has to offer each of us: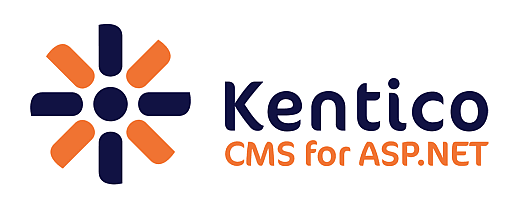 Key Features For Developers
For Web Developers Kentico represents an all-in-one solution that helps you achieve the best of your results with least of effort and in shortest time.
Fast Development Process: Kentico CMS offers ready-to-use framework on ASP.NET platform, which otherwise would have been a tedious and expensive job with hours of coding. Hours of manual coding to write SQL queries and ADO.NET codes has been cut down by Kentico CMS into a few mouse click processes and loads of other ready-made modules.
Open Extensibility and Flexibility: Kentico CMS is featured with unrestricted and extensible architecture and web development framework, which is a real problem with many of the content management systems of the date.

Highly Flexible HTML Code & Design: Kentico offers you high flexibility and full control over the (X)HTML code and customization in design in addition to flexibility in site navigation and structure.
Responsive Support: Kentico CMS provides all clients with a highly responsive and readily reacting Phone and E-mail support.
7 days bug fixing policy: Every reported bug will be fixed within 7 working days. That's a unique commitment on the market.
Key Features For Web-Masters
Used widely for variety of websites ranging from Intranets, Extranets to Corporate, Community, E-Commerce and many other sites, Kentico CMS indeed has been the preferable choice of most of the site owners.
User Friendly Interface: Kentico CMS is featured with user-friendly interface and WYSIWYG editor that is easy to use and edit, even if you are not a technical guru. With just only the minimum knowledge of Word, you can easily learn the features of it.

Easy Solution To Creating Your Website: There's hardly to worry about even if you do not have a web developer to create and incorporate your requirements based on Kentico CMS. It helps you with hundreds of Kentico CMS Solution Partners, who are at your service with the complete design and template based on your requirements.
Helps To Build Interactive Websites: Websites does not only mean a good template design and collection of information. With Kentico CMS you can make your website much more interactive by creating online forms, communities using forums, newsletters, blogs and can perform surveys too. It also allows you to add a shopping cart to your website for online selling, which is again an important feature.
Know How Your Site Is Doing: With the built-in feature of Web Analytics, Kentico CMS helps you in tracking your website results such as the visits and campaigns. Furthermore, it helps you in optimizing the content of your website for better results.
System Requirements
Kentico CMS for ASP.NET does not require any high-end technical configuration to work. The minimum technical requirements your system should have to run this CMS software are;
ASP.NET 2.0
.NET Framework 2.0
Microsoft SQL Server 2000/2005/2008
Visual Studio / Visual Web Developer 2005/2008 and
Internet Information Services
Security Benefits
Security is one of the vital features for any software and same with Kentico CMS too. It has its own security standards and system based on the standard security features of ASP.NET.
Kentico CMS for ASP.NET supports both Windows Authentication and Forms Authentication service as well. You can even create your own that will work by importing user information from external database. Module based user permissions can also be granted for specific documents or sections of website. In a word, the Permissions Authorization is not just only limited to predefined ones. Moreover, Kentico CMS provides other security features too such as UI Personalization. To know details about the security benefits, visit Security Benefits of Kentico CMS for ASP.NET.
Free Edition, Trial Version and Virtual Lab
It comes with a Free License Edition for use in personal or even commercial projects. There's no expiration period for this version, however it offers limited features set (like number of items in E-shop etc.). Get a Free License Edition of Kentico CMS for ASP.NET
Good way to evaluate Kentico CMS is to download a 30 days trial version with all its features enabled and 10 support tickets by e-mail at free of cost. Download Kentico CMS for ASP.NET Trial Package and know its incomparable features more closely.
Kentico offers you an amazing feature of 'Virtual Lab' where you get the chance to evaluate it more closely online without installing anything on your PC. In this Virtual Lab option, a temporary website is being created on their server. This is a 7 days trial website where you can test almost all the features of Kentico CMS and is available in four options including Corporate, E-commerce, Social Community Network and Personal Web site. Go ahead to subscribe for a 7 days trial of Virtual Lab of Kentico CMS for ASP.NET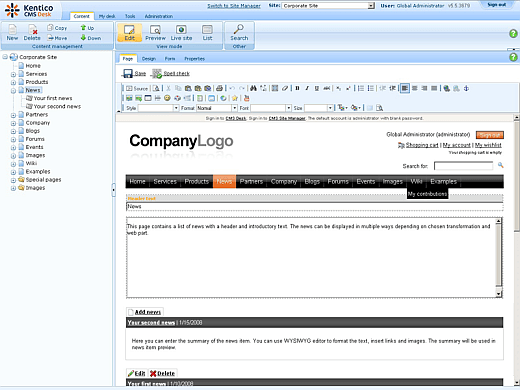 Main Benefits At A Glance
To sum up, here are the major beneficial points in part of Kentico CMS for ASP.NET;
It is based on the Microsoft ASP.NET and SQL Server platform
The complete C# source code is available along with the source code license
High level of customization using Visual Studio
Fully featured and SEO friendly solution and available in 200+ web-parts that can be used to build any site including E-commerce, Intranet or Social Network.
It offers tons of ready-to-use modules that helps in fast website development with no complex manual coding
It hardly requires any technical knowledge while the non-technical users can use it with ease
No additional software or add-ons are required as Kentico CMS itself is a complete solution package
Featured with browser based WYSIWYG editor that is easy to use
User-friendly Interface that is easy-to use and translated into 8 languages
It comes with a Free License Edition for use in commercial or personal projects with no time limitation
Support system is highly responsive
Multilingual support that includes right-to-left languages and eastern languages too.
Kentico CMS offers Multisite Support featuring support to unlimited number of websites with just a single instance
Low in bugs with 7 days policy for bug fixation. For the past (4.1) version they also planted a tree for each bug found – Trees For Bugs
A living community at Kentico DevNet (http://devnet.kentico.com/)
Implementation cost is low
Last but not the least, it is a fully re-brandable solution
You can see the Complete List Of Features Of Kentico CMS for ASP.NET for more details.
Words are just not enough to describe the immense number of features offered by this content management system software. One of the best showcases of its popularity is the Windows Web Application Gallery. Inspite of its signing up in the later half of last year, the number of downloads of Kentico CMS is already making its way to the top.
Finally, the price for this outstanding content management system ranges from $0 for free edition to $ 4499 for 1 Web Site Ultimate License.
Be it for your corporate website, a community website or an online store, Kentico CMS for ASP.NET has all the features that makes it an all-in-one solution that stands far ahead of other CMS softwares of the present date.
SmashingApps.com participates in various affiliate marketing programs and especially Amazon Services LLC Associates Program, which means we may get paid commissions on editorially chosen products purchased through our links to any of the linked sites from us.