Chrome is a wonderful browser. Its speed and constant updates keep it ahead of the game. The gaps left in the user interface are quickly filled out by great 3rd party extensions.
One type of such extensions pops up a menu of options each time we highlight a word on a webpage. The options in the popup menu can be of searching through a search engine, looking up the meaning or synonyms of the word using a variety of online dictionaries, or even checking which online stores is the 'word' available on (if the highlighted text is a product).
While normally you might have to install a separate extension for all those tasks, Hyperwords is one tool that successfully merges all those options into one popup menu.
Hyperwords is a browser extension for Google Chrome. In comparison to most other extensions, Hyperwords' size (1.3MB) might seem a bit large. But the function it serves and the way it is served, justify the large size.
After installing the extension your Chrome address bar will not be cluttered with any extra icons. All you do is highlight a word on any webpage open in Chrome. Resultantly a menu like would pop up right next to the word:
The Search option lets us search the word on many online engines.
The References option is quick way to match the word's meaning or to look up relevant quotations.
The Shop option lets us search the word on Amazon, Ebay, and iTunes.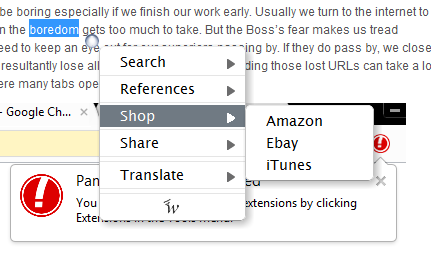 The translate option can be used to translate from and to a variety of texts.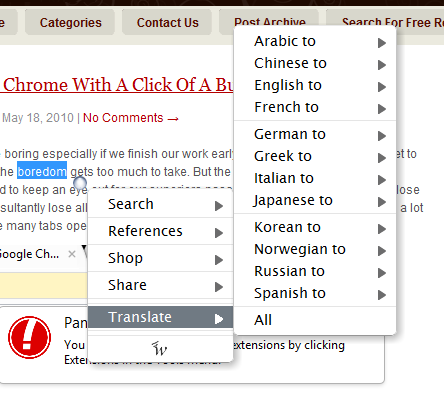 The final option (the one with the "w") can be used to access the extension's options. This is what the options look like: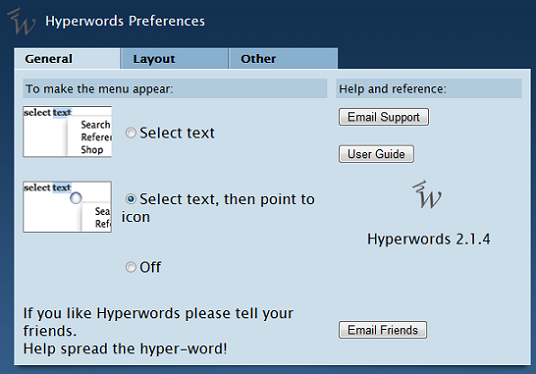 These options give us a lot of control over the popup menu showed by Hyperwords.
Hyperwords is one extension that will benefit every Chrome user. Whatever purpose you use Chrome for, this extension is a must have.