Elmedia Player is a convenient multifunctional media player for Mac OS X, which can play a great variety of formats. All Mac users will find its media library easy-to-use and already familiar to them from iTunes. You can create, manage and delete playlists. Also try out smart playlists: you can create them by choosing special parameters, and then Elmedia Player will organize files matching your criteria automatically.
Elmedia Mac media player is a versatile tool that supports multiple formats playback (FLV, SWF, XAP (Silverlight), RM and RV (Real), AVI, MOV, MP4, WMV). No need to install a separate player for each video you want to watch. Enjoy your screening with Elmedia Player.
There are plenty of options you can choose to watch the video in Elmedia Player. Detach the playback window from Elmedia Player and move it to any part of the monitor.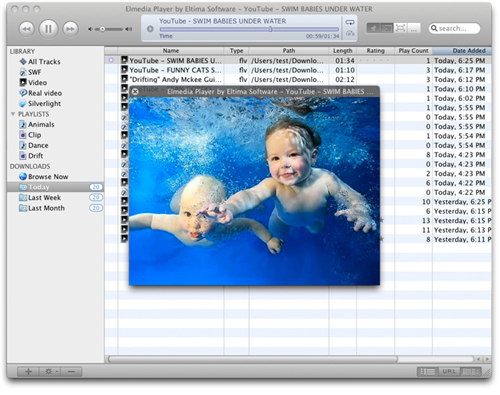 We hope you will be pleased to discover convenient media library in Elmedia Player that is already familiar to all iTunes users. All videos and movies from the library can be grouped in playlists or smart playlists.
Features list:
Watch almost any video or animation on your Mac using just one app (FLV, SWF, XAP (Silverlight), RM and RV (Real), AVI, MOV, MP4, WMV, etc.)
Full control over files playback, i.e. rewind, forward, stop and pause options
Possibility to make any movie fit to current player window size
Zoom in and zoom out options for SWF and EXE (or APP) files
Growl and browsers integration
You can easily prevent a Flash movie from sending/receiving data online
Convenient iTunes-style media library
Playlists creation and management
Smart playlists creation by various parameteres
Volume control
SmashingApps.com participates in various affiliate marketing programs and especially Amazon Services LLC Associates Program, which means we may get paid commissions on editorially chosen products purchased through our links to any of the linked sites from us.