One of the most popular file hosting solutions is Dropbox that offers free and paid packages to its users. The free plan gives users a 2GB storage space which can host any of their files. Many Dropbox users use their accounts to store the pictures and videos they shoot from their smartphones. The procedure involves first transferring the data from the phone to their computer, and then to Dropbox.
But thanks to Dropbox for iPhone, that lengthy procedure is no longer necessary.
Dropbox for iPhone is a free application available at the App Store. The OS requirement is 3.1 or later. Previously the application supported only iPod Touch and iPhone but the most recent release adds support for the iPad.
The purpose of the application is quite simple: it aims to make transferring data from the Apple device to Dropbox a lot easier.
The above image is of the Dropbox application being used on an iPhone. As you can see, one's Dropbox files are easily accessible using the internet connection of the iPhone. Once users enter Dropbox, they can perform any feature Dropbox normally allows them to perform (such as downloading files from their Dropbox account).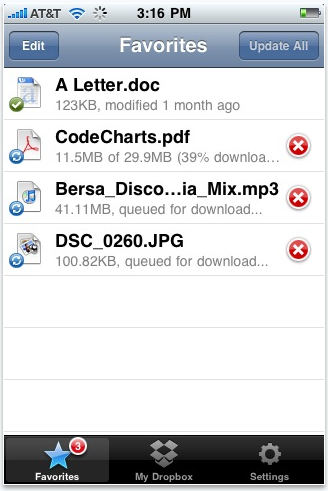 Photos and videos can be seen in a thumbnail view for easy viewing.
Downloading pictures / videos and watching them on our iPad will surely be a more fun experience for users.
Furthermore as soon as we shoot a picture or video through our Apple device, we can access the Dropbox application to send it to our Dropbox account.
Here is an image of a photo being viewed on the iPad through Dropbox.
Dropbox is sized at 5.7MB only and available for free from the App Store. Click here to get it.