Desktop based project management applications are at a serious disadvantage of instant collaboration, idea sharing, time tracking and file management. In the age of cloud computing, you need a good cloud based project management tool to manage your projects, payments, set up timely goals and track expenses. Everyone wants to reduce the overhead of communication and better manage the assets of their organization from a central location.
If you are a web worker, your team members, clients and other employees may work from different geographic locations, hence making it impossible to work with an offline project management application. In comes Mavenlink – one of the best project collaboration applications which can be used to manage your projects, track time spent on each project, communicate with team members, manage payments, invoices and do a lot more. It's time to abandon your email inbox and use Mavenlink's project management solution to manage your online work.
Try Mavenlink For Free
You can sign up for an Independent or a Business plan and begin using the service free of charge for 30 days. Mavenlink also supports OpenID, hence you can use your existing Google, Yahoo, MySpace, Facebook, AOL or with any other Open ID provider.
At the end of 30 days, you may either pay the monthly fee to continue using Mavenlink or cancel your plan free of charge. All plans include Web collaboration, time tracking, online payments, project budgets, file sharing, task management, invoicing and email integration.
Here is a quick run down of some important features of Mavenlink:
The MavenLink Dashboard and Your Project Workspace
After logging in to your Mavenlink account's dashboard, you can start a new project by clicking the "Start a new project" link. Prior to that, it would be a good idea to tweak the settings of your profile, add a profile image, configure or customize your company's branding. All this can be done under "Settings".
To start a new project, first create a workspace and enter a name, choose your role (client or consultant) and specify a budget with due date. An example is shown below: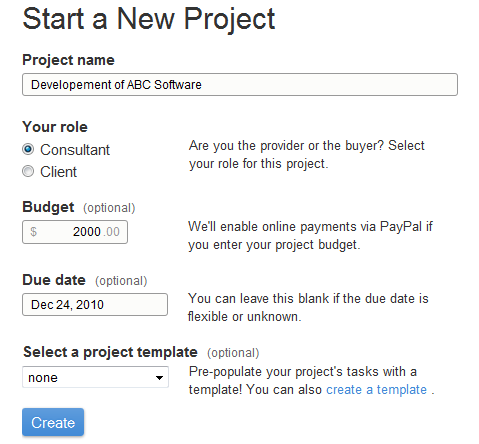 When the project has been created, go back to your workspace and hit the "Invite Members" link. This will open a browser window where you can invite team members, clients, developers and other individuals involved with the project.
Now that the project is ready and you have invited all your team members, start posting messages and uploading files on your workspace.
Your team members can read these messages, comment on it and download the files uploaded by you. In addition to that, each team member can start a new discussion thread, upload their files so that other members can download it.
This is very useful in the sense that all files and conversations are accessible to everyone. You can also send a private message to a specific member of your team, they can reply to messages directly from their email inbox, without having to login to Mavenlink every time.
Time Tracking Features
The time tracking section allows you to set deadlines on specific tasks and track the amount of time spent on each task of a project. You can create as many time entries by choosing a date from the calendar and then apply different details e.g budget, hourly rates, tags, whether billable or non billable and so on.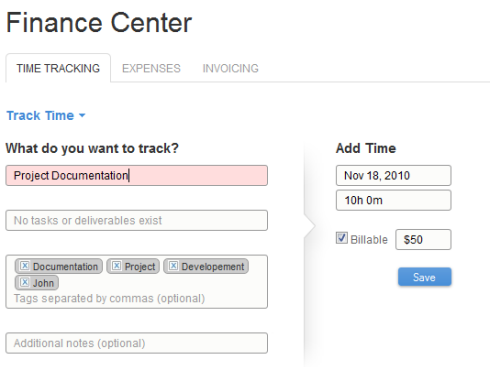 You will receive notifications on your Mavenlink workspace when the time allotted to finish a task comes to an end. This is useful, because you can track the amount of time associated with different tasks of your project and divide the work accordingly.
Expense Tracking
The Expense tracking section allows service providers to add expenses across any project. If you are working on multiple projects and want to keep an eye on the total amount of money spent, use the Expense tracking section and add all your projects one by one.
You can specify a date, the amount and the payment receipt in any format. When you are done, hit the "Save" button and a new entry will be logged under your account's expense tracking section. This is very useful when you have hired a lot of developers for your project and want a central location to track your project expenses and plan your budget.
Invoicing
This is what makes Mavenlink one of the best online workplace among web workers. You can create and manage payment invoices directly from Mavenlink's project workspace and don't have to use third party online invoicing apps. This is useful for two reasons. First, you don't have to spend money on premium invoicing apps because Mavenlink allows you to create and track as many invoices as you want.
Secondly, all the invoices are tightly integrated within your project workspace and project feed, this is useful because you can track all the details from the same location.
Mavenlink supports creating invoices based on:
Completed tasks or Deliverables: Works simple – you create a task, assign a budget and send it to any of your consultants, developers or clients. When the person finishes it, the task can be added in the invoice and the payment can be made accordingly.
Hours or Timely rates: There are situations when you may want to pay an hourly rate to your team members. This option let's you create an invoice based on timed inputs.
Tracked expenses: You can also create invoice according to tracked expenses.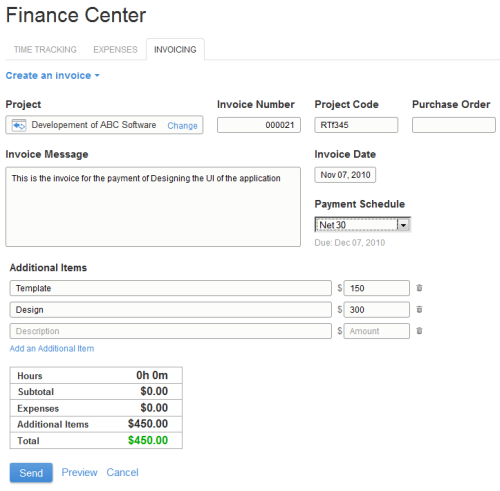 The advantage of using Mavenlink's invoicing system is that the invoices are directly tied to the conversations, files and other deliverables from your project workplace. Hence, less time is required to manage payments at the end of a project.
All in all, Mavenlink is one of the best online project collaboration apps which includes time and expense tracking and online invoicing. There are more features which cannot be wrapped in a single article e.g
Scheduling: Create a timetable for projects and set hard or soft deadlines.
Real time messaging: Messages will instantly go out to everyone in a workspace via email
File sharing: Upload multiple files at once and share up to 20GB across projects
Custom filters: Choose what you want to see. Sort by messages with attachments or those linked to your tracker.
Permissions: Give specific rights to users within a project.
You can also visit the Mavenlink's tour page to learn more