There are many websites out there for planning and organizing events or meetings for groups, but getting by free and good ones is not that easy. That is why I am sharing 11 Great Websites To Plan And Organize Your Group Events Easier Than Ever. Read each entry in the list and see which one suits your needs best.
You are welcome if you want to share more websites for group events planning and meeting organizers that our readers/viewers may like. Do you want to be the first one to know the latest happenings at SmashingApps.com, just subscribe to our rss feed and you can follow us on twitter and follow us on Digg as well to get updated.
Tip: You can make sure everything you type is clear, effective, and mistake-free with Grammarly,  It scans your text for common and complex grammatical mistakes, spanning everything from subject-verb agreement to article use to modifier placement.
Mobaganda is a simple way to plan parties, meetings, get-togethers, conference calls, etc. and track who is coming, and who is not.
Congregar makes it easy to pick the best date for your event, by asking participants to indicate their availability from the options you offer.
Hangout is a dead simple tool to manage your meetings invites by sending/receiving emails and alerts.
Fasterplan is a collaborative tool that helps you and your friends or colleagues to organize any kind of event.
Business partners and friends want to meet with you. Show them when you're busy and available and let them submit meeting requests to get on your calendar. MeetMe is your central hub for scheduling.
If you are trying to organise an event with people with little free time it can take a bit of hassle on the part of the organiser to pick a date that the most number of people can make. This website aims to make it easier. You give it some details about the event and who is invited. The website can then email them an invite and then the invitees bring up a (simple) webpage and tell it when they can make and when they can't.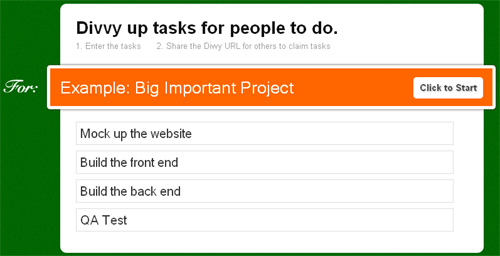 Divvyus is the place to create shared lists of tasks for others to claim and do. Simply send it to your friends and co-workers and they can easily claim tasks.

Needtomeet.com is a simple tool that helps you effortlessly find a time to meet. It's unique calendar interface allows you to select meeting times in an intuitive and user-friendly manner and to see at a glance which times work best for your group.
Imagine you want to announce an event with participants across different time zones. Simply set the time, in your time zone, and permatime.com will generate a link for it. If you share this link with others, they will see that time in their own local time zone (and any other zones they choose).
This is a basic public Meetomatic service for selecting dates or AM/PM slots. You can simply use it to set up and arrange meetings.
WhichDateWorks.com makes it easier to make plans with friends and families. This is a simple, hassle-free planning solution for all the events in your life.