Presidential elections are few days away and everyone is just predicting who will be the next President Of United States of America? Today at SmashingApps, you will find a selected list of websites that are involved in Presidential Elections 2008 in America. Yes there should be more website but we are only listing these below because these have nice and beautiful layout and useful information with public interaction as well.
You are welcome to share if you want to share more useful websites for USA Presidential Elections 2008 that our readers/viewers may like. Do you want to be the first one to know the latest happenings at SmashingApps.com just subscribe to our rss feed.
I will appreciate if you can spread the word via Digg, StumbleUpon and other social media websites, Thank you
Barack Obama and Joe Biden: The Change We Need
The Official Website of John McCain's 2008 Campaign for President
Register to Vote | Early Vote | Find Your Polling Location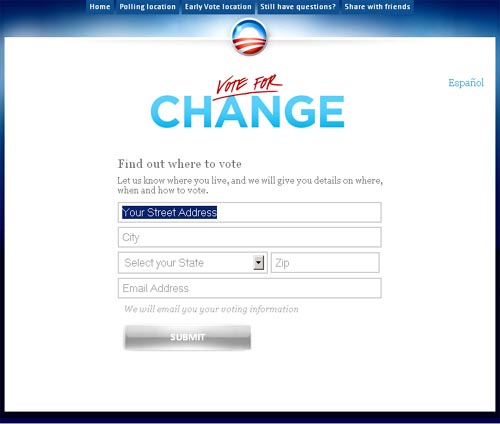 McCain Or Obama, Who Should Be The Next President Of The United States of America?
Vote For President – Let your voice be heard
Election 2008 | powered by Twitter
All the websites are copyright of their respected owners and creators. This post is about just to show their creative ideas, inspiration and list of Presidential Election related websites to the world. This is an unbiased post and does not contain any influence by any individual or any group. This is just to share the information with world.