As we all know that Firefox is the fastest growing popular web browser and its growing more and more every day. There are too many handy options provided by the firefox and this is the main reason for its popularity. You can easily find lots of free download able firefox add-ons and extensions that are available on the internet, we also featured few of them before and it's demands are increasing. In this post, I am listing down 9 Insanely Useful Firefox Add-ons That Will Save Your Time . I would love to know at least one of your most favorite firefox add-on that saves your time and could be the part of this list.
You are welcome to share more firefox add-ons that you think will be useful and feel a better browsing experience that our readers/viewers may like. Do you want to be the first one to know the latest happenings at SmashingApps.com just subscribe to our rss feed and you can follow us on twitter and do not forget to become our fan on facebook as well.
You can organizes your favorite sources in a magazine-like start page. It provides seamless integration with Google Reader, Twitter, Delicious, YouTube and Amazon.
Web of Trust is one of Mozilla's most popular add-ons. This safe surfing tool uses a traffic-light style rating system to help you stay safe when you search, surf and shop online. WOT ratings are powered by a global community of millions of trustworthy users who have rated millions of websites based on their experiences. The WOT add-on provides reputation ratings to search results when you use Google, Yahoo!, Bing, Wikipedia and other popular sites, helping you protect your computer and personal information. Your online email account – Google Mail, Yahoo! Mail and Hotmail is also protected.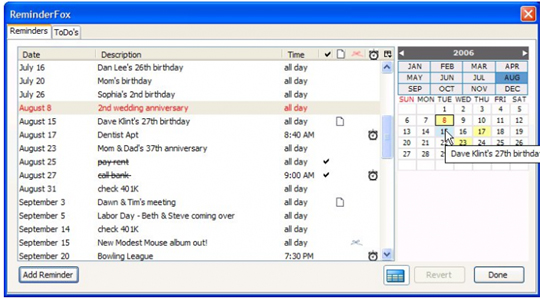 ReminderFox displays and manages lists of reminders and ToDo's. ReminderFox makes sure you remember all of your important dates via easy-to-use lists, alerts, and alarms, right in your browser without the need for a separate calendar program.
DownloadHelper is a tool for web content extraction. Its purpose is to capture video and image files from many sites. Just surf the Web as you are used to, when DownloadHelper detects it can do something for you, the icon gets animated and a menu allows you to download files by simply clicking an item. For instance, if you go to a YouTube page, you'll be able to download the video directly on your file system. It also works with MySpace, Google videos, DailyMotion, Porkolt, iFilm, DreamHost and others.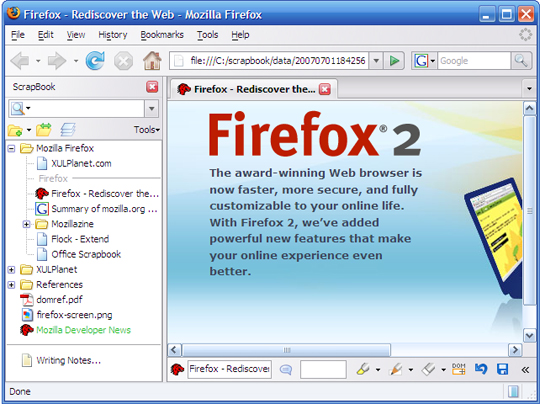 ScrapBook is a Firefox extension, which helps you to save Web pages and easily manage collections. Key features are lightness, speed, accuracy and multi-language support. Major features are saving web pages, snippets of web page, saving a web site, organizing the collection in the same way as Bookmarks and much more.
Xmarks is the #1 bookmarking add-on. It takes only a moment to get up and running with Xmarks. After you install the add-on, click on the notification to set up Xmarks and start backing up and synchronizing your bookmarks. Install Xmarks on each computer you use, and it seamlessly integrates with your web browser and keeps your bookmarks safely backed up and in sync.
Adblock Plus allows you to regain control of the internet and view the web the way you want to. The add-on is supported by over forty filter subscriptions in dozens of languages which automatically configure it for purposes ranging from removing online advertising to blocking all known malware domains. Adblock Plus also allows you to customize your filters with the assistance of a variety of useful features, including a context option for images, a block tab for Flash and Java objects, and a list of blockable items to remove scripts and stylesheets.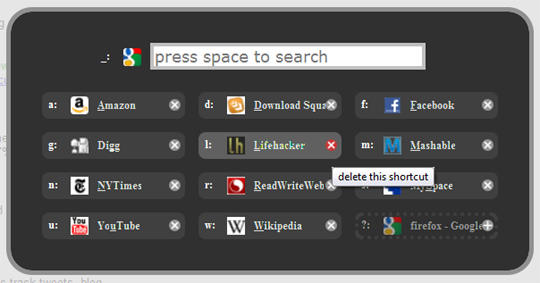 You can save time and get faster, parallelized downloads, quick definitions, auto-loading of next page, improved searching, and can do more with FastestFox.
DownThemAll is all you can desire from a download manager: it features an advanced accelerator that increases speed up to 400% and it allows you to pause and resume downloads at any time. is fast, reliable and easy-to-use! It lets you download all the links or images contained in a webpage and much more: you can refine your downloads by fully customizable criteria to get only what you really want.
SmashingApps.com participates in various affiliate marketing programs and especially Amazon Services LLC Associates Program, which means we may get paid commissions on editorially chosen products purchased through our links to any of the linked sites from us.