In this compilation, we are presenting 9 and best Photoshop plugins that are extremely useful for the designers. Adobe Photoshop is such a powerful and creative platform for the designers and extensive collection of useful plugins further extend its capabilities so that designers can use this software to its full potential. This is the reason why plugins are so much popular among the designers.
Here is the full collection of the 9 best and useful Adobe Photoshop plugins for the designers which are free to use. So have a look in this collection and enjoy using them for your work. Post your comments below on this compilation!
See Also:
10 Free Photoshop Plugins For Designers
15 Free Amazing Photoshop Plugins
Update multiple layer comps in one click with Composer, a plugin for Photoshop CS5, CS6, and CC.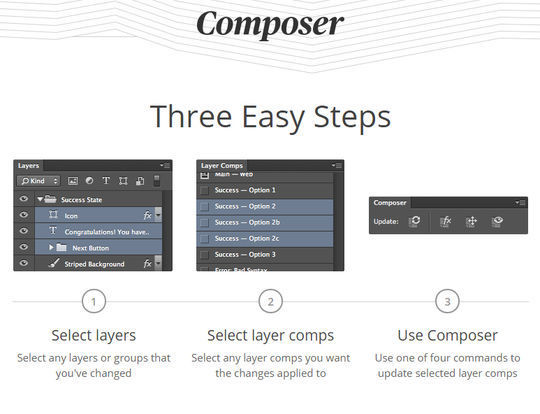 The Photoshop® Web Font Plug-in allows you to design your web fonts with the same as those that appear on the site.
Save Panel is a Photoshop plugin that optimizes file saving. With Save Panel, you can configure buttons that saves documents with your favorite settings.
The easiest way to create any look for your photos.
The ultimate diptych, triptych & ntych automation tool for Photoshop
MR. STACKS is a Photoshop script that rapidly generates storyboards, stacks, and PDF(s) for CD check-ins, client-ish presentations, and whatever else it is you do. Helping to Nail some of the most monotonous tasks in art direction.