Online maps help us get directions to places we want to go. They also help us discover new places in the area we live. Some website even let us tag certain locations with notes which can be shared with friends and family, forming a travelogue.
If you are looking for such a tool to get maps and directions, then give my list below a read. You will find that each entry is unique and useful. See which one will suit you best.
You are welcome if you want to share moreTools To Get Maps And Directions Online that our readers/viewers may like. Do you want to be the first one to know the latest happenings at smashingApps.com just subscribe to our rss feed and you can follow us on twitter.
1. Mappy Friends
Mappy Friends lets visitors sign up with their Facebook or Twitter account. They can then view a map of the entire world and mark the locations they have been to. While marking the places they have visited, users can add notes with to a city or even a specific place in that city. Our Facebook and Twitter friends can view our visited locations and notes and we can view theirs. The result is a big map of directions which we can use anytime we want to travel to a new place next. Visit Mappy Friends.
2. Where I've Been
Where I've Been is another free website that lets us share our travels with our friends. In a manner similar to Mappy Friends, we can mark our visited locations on a map and then share it with our friends. Visit Where I've Been.
3. UMapper
UMapper is a online service currently in its beta. The website lets us create route maps. These maps are similar to the ones we can purchase from gas stations. The difference is that we can highlight the routes on our virtual map. For example if we have a house in the country and want to give our friends the exact directions, we can draw them on a map and share it with them. Visit UMapper.
4. Assemble
Assemble is an iPhone application that gathers information on our current location and conveys it to our friends. In order to use Assemble we first need to create an account on its site and then add our friends. Our location is sent to them via a short message. Visit Assemble's website or get the Assemble app from the App Store.
5. Dear Map

Dear Map is another website in my list which offers a map sharing method. In Dear Map we create new maps from existing ones. We can add icons on our map and tour it with Google Earth. The map is then assigned a URL which can be shared with anyone we want. Visit Dear Map.
6. Simple Guide Tool

For people who need help in finding location on a map, Simple Guide Tool can be very helpful. The map used us extracted from Google Maps. A chat room is created by the user where he / she can invite other people. Other users see the same area of the map as being viewed by the user. This helps the user explain exactly (by combining the map image with textual chat) which location is being referred to. Visit Simple Guide Tool.
7. MapAList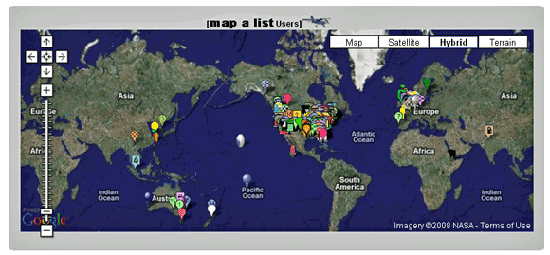 MapAList is a unique address-mapping website. We can use it to pull up a list of addresses from a spreadsheet in Google Docs; the addresses are then mapped onto Google Maps. We can also modify addresses later and have them automatically synced on our map. To do all this we first need to allow MapAList access to our Google Docs account which is an easy procedure. Visit MapAList.