Here is the collection of some free web conferencing services for you that will let you take advantage of the online meetings and web conferences. With the passage of time the corporate world is also shifting towards the world of the internet. However, home users are also enjoying the benefits of video conferencing and webinars that allow them to communicate with their loved ones no matter how far they live.
In this round up, you will discover some free web conferencing services for you. These services are exceptionally useful for the entrepreneurs and businessmen who want to expand their business worldwide. So, here is the complete list. Let us take a look at this compilation.
OnWebinar.com is a free platform for hosting and scheduling webinars, web-meetings and web-conferences. Organize online coaching, online-meetings or give online-presentations.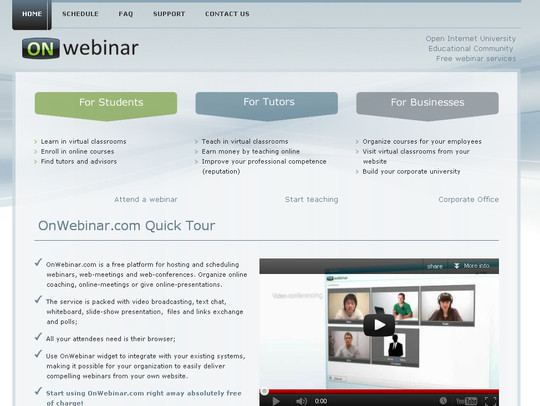 Yugma free web conferencing allows anyone, anywhere to instantly share their desktop and ideas online with others. To start hosting your own meetings, sign up today for FREE.
OpenMeetings is a free browser-based software that allows you to set up instantly a conference in the Web. You can use your microphone or webcam, share documents on a white board, share your screen or record meetings. It is available as hosted service or you download and install a package on your server with no limitations in usage or users.
With the high cost of travel and shrinking budgets, most organizations today are already meeting virtually, or are considering it. But not all web conferencing solutions are created equal. We'd like to introduce you to an alternative way to communicate — one that makes it easy to meet with the people you need to, when you need to — all it takes is a web-enabled PC and something to say.
Vyew allows you to meet and share content in real-time or anytime. Upload images, files, documents and videos into a room. Users can access and contribute at anytime.
BigBlueButton enables universities and colleges to deliver a high-quality learning experience to remote students.
Work smarter, collaborate better, and work from anywhere with online services at Acrobat.com
SmashingApps.com participates in various affiliate marketing programs and especially Amazon Services LLC Associates Program, which means we may get paid commissions on editorially chosen products purchased through our links to any of the linked sites from us.