One of the issues which almost every cellphone owner/user has to come across is to find an easy, reliable and quick way to backup phone data to a permanent location such as a PC. The major considerations which are taken while opting for taking cellphone and smartphone data backups is to go through a minimum of problems and get it over with safely and regularly. We've compiled a list of 7 of the best tools available today in the market which can be used to take backup of the data present in your cellphone, and that too, easily. So have a look and make sure you provide us with feedback on how good these tools really are:
The name of this tool speaks much of itself. Syncfriend is one of the best backup taking tools out there. With Syncfriend you can easily sync and take backup of your phonebook. Syncfriend supports Outlook, iPhone, Android, Nokia, HTC, SonyEricsson etc.Syncfriend also features an automatic update of phonebook contacts along with de-duper support i.e. deletion of multiple identical contacts which might be added on automatic updates. Syncfriend is completely free to use as well.

Contails is an online phonebook management as well as backup service. It allows users to synchronize and backup their important phonebook data and also manage it. Contacts from other online services like MS Outlook, Mozilla Thunderbird, vCard, etc. and web services like GMail, Windows Live, Yahoo! Mail etc. can be added to the phonebook of your cellphone using Contails.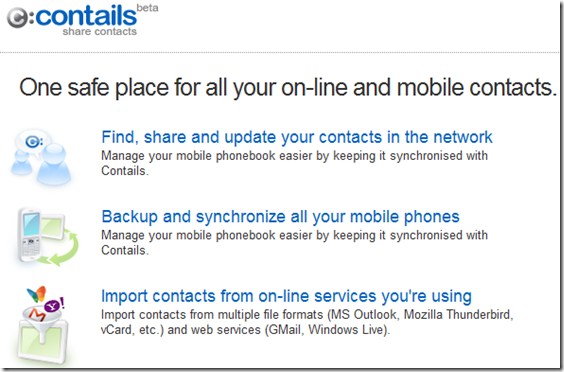 A service launched by popular cellular service provider Vodafone, Vodafone 360 takes control of your phonebook and other services and content on the web. Using the 360 web service, you can easily import email and merge or delete contact details, manage, add, share and comment on online shared photos, sync any changes made to the phonebook and other content directly with your cellphone. In addition, Vodafone 360 allows its users to search and shop online for music, games and apps anddownload them directly on their phones as well.
Mobyko gives you complete control over your cellphone as it allows you to safely backup your important contacts and their details online, securely in your Mobyko account. It also features live syncing of contacts, phonebook and calendar present in your cellphone in sync with those present online so whether you make changes in one or the other, your data stays consistent throughout.
Anywr works in a simple and elegant way. First it lets you import and backup all your phone contacts securely online. Then it lets you use the imported phonebook data to create and manage events, update contact lists etc. All this is done while keeping sync with the original phonebook contents making every action traceable. Anywr also supports localization by having a multi-language interface.
Mobical is a free web based service which can be used to backup and store important cellphone data such as phonebook, calendar, notes, etc. securely online. In case of any damage or theft of the cellphone, Mobical can be easily used to export the backup data back to the new cellphone easily. Mobical has a large number of cellphones and smartphones supported so it's quite easy to work with.
Bloove is a great online cellphone data management service. It can be used to take all sorts of backups from your smartphone. Bloove supports several mobile based operating system and development platforms suchs as Windows Mobile, J2ME, Symbian S60 and many others. Bloove's basic backup and restore features are free but some advanced features such as SMS backup, SMS via POP3, Google Contacts sync with phonebook etc. are available for as low as $5 per month.
If you know more apps that can be useful for our readers then feel free to use the comment box below and mention them. We will try our best to review them for you.