Here are useful free resources of 5 Free Sites For Beautiful And Professional Looking Twitter Backgrounds. We hope you will find this post helpful as it contains the best resources you may need to create and to see beautiful twitter backgrounds for your profile.
You are welcome  if you want to share more free websites related to twitter backgrounds which our readers/viewers may like. Do you want to be the first one to know the latest happenings at SmashingApps.com just subscribe to our rss feed and you can follow us on twitter and do not forget to become our fan on facebook as well.
You can use themeleon to customize the way Twitter looks for you and how your profile looks to others. It has an option to use any of the more than 685,956 background patterns & 1,043,847 color palettes on COLOURlovers or customize any of the colors or patterns to get just the right design for you.
Free Twitter Designer can help you create free Twitter backgrounds that have the same look and feel as those done by professional graphic designers. It's easy to use and anybody with little computer knowledge can use this.
TwitterBackgrounds.com is the premier site for Twitter backgrounds. They have the largest selection of free Twitter backgrounds and each design is made by them.  They have a  collection of hundreds of free Twitter Backgrounds to download.
You can choose from over 80 Twitter background designs or use their customizer to create your own unique design. It will allow you to add links on your background to your social network profiles, your website and blog. This helps you gain followers to your other profiles.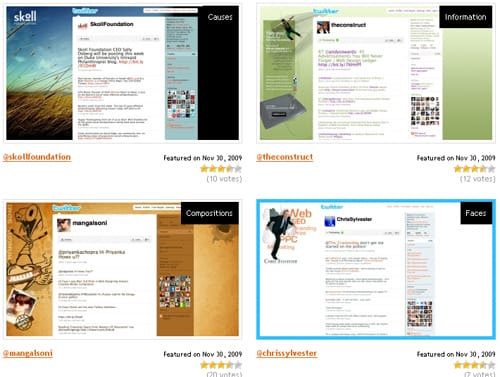 This is a showcase, inspiration and resource for all Twitter fans willing to express their individuality, creativity and professionalism not only through their twitterstream but via their profile background as well.