The best video converters are often paid computer applications. But there are a number of good freeware out there that do a decent enough job.
If you are looking for a free video conversion tool, check out the following 5. They are a collection of web apps and installable applications that will be helpful in different situations and for different file formats; all of them are free to use.
You are welcome if you want to share more Excellent Tools To Edit Your Videos that our readers/viewers may like. Do you want to be the first one to know the latest happenings at  SmashingApps.com, just subscribe to our rss feed and you can follow us on twitter and follow us on Digg as well to get updated.
Freemake is an installable video converter for Windows operating systems. In addition to converting videos to AVI, MP4, 3GP, and DVD formats, the application can also rip DVDs, rip audio from videos, and split videos and upload them to YouTube as a playlist.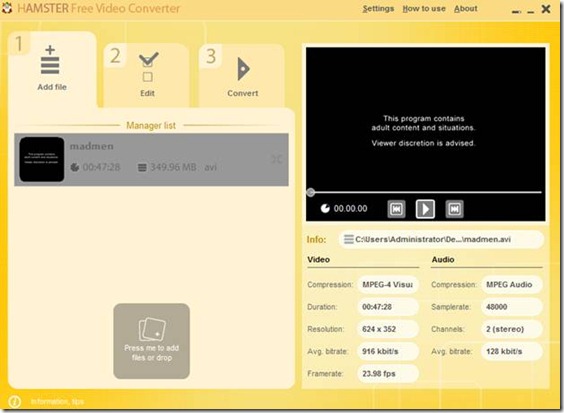 Hamster is a user friendly video conversion application for Windows. It provides the user with a good number of features and formats to choose from. Videos can be converted to 3GP, MP3, MP4, AVI, MPG, WMV, MPEG, FLV, HD, DVD, M2TS and other formats.
This, as the name suggests, is an online video converter. You get a separate webpage for each type of converter. You can either convert your videos from one format to another or choose to rip the audio off videos. For each type of conversion, you get to choose the video size, quality, frame rate, and cutting points, if applicable.
MovAvi is another online converter, although much simpler than the abovementioned "Online Video Converter." Using MovAvi, you browse to your file and then select one of the predefined formats available on the site. You can select multiple videos files and merge them into a singular video.
As far as free installable video converters for Windows go, AVC's Free Video Converter takes home the prize. It provides a great number of conversion formats and options, all neatly packed into a tidy user-friendly interface. The video conversion speed is also faster than most converters.