You might have been using Firefox from a long time but there is a good chance you are not taking its full advantage. Firefox's maximum potential lies in the power of its add-ons. Here, We have gathered 21 Insanely Cool Add-ons To Rock Your Firefox. You will not find these add-ons in similar lists on other websites; I hope you find them to be useful to your computer usage.
Give the list a thorough reading, try out any or all add-ons you are interested in, and let me know in the comments how they worked out for you. You are welcome if you want to share more useful firefox add-ons which our readers/viewers may like. Do you want to be the first one to know the latest happenings at SmashingApps.com just subscribe to our rss feed and you can follow us on twitter.
This extension will save automatically the content in textarea or WYSIWYG editor when user is typing. User can recover the saved texts in the cache window, even the tab or the window is closed unexpectedly.
Extends the function of the drag-and-drop mouse gesture so that it can be used to load URLs, do a web search of selected text on a page, or save an image on a page. The successor to Super DragAndGo.
LinkExtend provides meta-site-ratings for computer safety, child safety, company ethics, and popularity. Safety results come from eight online services giving you a safer browsing experience. Site links, titles, files and reviews are also included.
Get visual video summaries and related videos on Twitter, Google, YouTube, Yahoo! and more. See the contents of a video link before you click to watch the video.
ScrapBook is a Firefox extension, which helps you to save web pages and easily manage collections. It's key features are lightness, speed, accuracy and multi-language support.
FoxTab is an extension for Mozilla Firefox that enhances the browser with an attractive 3D tabbed-browsing functionality. Foxtab displays thumbnails previews of your favorite sites, opened tabs, and recently closed tabs.
Stylish lets you easily install themes and skins for Google, Facebook, YouTube, Orkut, and many, many other sites. You can even customize Firefox and other programs themselves.
AutoPager automatically loads next pages when you reach the end of a page. It works on a ton of sites,Google,Yahoo.. It works well with most other add-ons adblock plus, WOT and most of the greasemonkey scripts. You can also try AutoPagerLite.
You can select text on any web page and it will be automatically copied to the clipboard.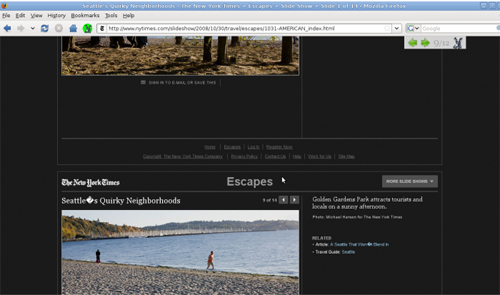 Ever read one of those top ten lists or photo galleries where every item is on a different page? Clicking "Next" and waiting takes longer than actually reading the page. PageZipper automatically merges all the "Next" pages into one, so you can skip directly to the stuff you want.
If you keep tons of tabs open because you want to continue reading them later, Taboo is for you. Taboo lets you save a page for later (taking a screenshot, and using the Session Saver code to remember scroll location and form fields).
ImTranslator is one of the most popular and highly demanded add-on for Firefox received the highest rating from numerous users. It does translation in 2652 language combinations, spell checking and much more.
When your kids want to play online, put Firefox into Kid Mode which protects your computer and delight your kid with a safe environment that's filled with fun and learning. Zoodles Kid Mode makes it easy for kids 8 and under to independently play online.
Sxipper makes interacting with the web simpler by keeping track of an unlimited number of usernames, passwords and personal information such as name, address, phone numbers, etc. Presented as you need it, Sxipper securely stores this personal data on your computer.
NoSquint allows you to adjust the text-only and full-page (both text and images) zoom levels as well as color settings both globally (for all sites) and per site.
WiseStamp empowers your webmail signatures in Gmail, Google Apps, Yahoo!, Hotmail, and AOL. This is a signature creator that includes many exciting and improved webmail signature features.
Tab Scope is a Firefox extension which enables to preview and navigate tab contents through popup.
This will allow searching multiple search engines at the same time. This will be embedded directly into browser.
You can use Amplify to clip, share & spark conversation about excerpts from articles, blog posts, tweets or anything else you read on the web. Amplify supports autoposting to Twitter, Facebook, WordPress, Posterous, Tumblr &
more.
The easiest way to find the best websites on the Internet. As you browse the internet, find the most interesting related sites on the web by similarity and category and get the latest articles and buzz on every website you visit.
Screengrab saves webpages as images. It will capture what you can see in the window, the entire page, just a selection, a particular frame, basically it saves webpages as images – either to a file, or to the clipboard. It captures
Flash too.