For the sport lovers this post will be a treat for them. In this post, we are showcasing 16 best and wonderful free iPhone Sport Apps for your iPhone. All these sport applications are easy to use and easy to access. These free and wonderful iPhone sport applications give iPhone user a superb and amazing experience.
Smartphones like iPhone provides their users so many interesting and exciting applications and in this list sport applications is one of them. And these days sport applications is very popular in market. Almost every sport is present in this iPhone sport application. Check this out and get to pick one. Do let us know what you feel about this round up. We hope that you will like this collection. Enjoy!
FOX Sports brings you the most comprehensive sports app available. Why download multiple apps for each of your favorite sports, teams, your local sports market, plus apps to listen to sports radio? The FOX Sports app does all of this for free!
Are you a TRUE sports junkie? Do you feel embarrassed or ashamed when you don't know a little piece of trivia? Use Brainscape to become the smartest pro sports fan in the room.
The Best Sports App. Ever! theScore has been completely re-designed for the iPad and iPhone to give you the ultimate mobile sports experience. It is the must-have fantasy sports utility.
NBC Sports Talk brings you the latest news, rumors and analysis for all your favorite sports – all in one place.
CBS Sports Fantasy Football for iPad
The official, free CBS Sports Fantasy Football for iPad app is updated and redesigned for the 2012 season to give you all the tools you need to dominate your league this season.
It's even easier for you to manage your fantasy team anywhere, anytime: Set your lineup, add & drop players, view detailed player stats, rankings and trends. Plus get the latest fantasy player news customized for your leagues; as well as live access to the Fantasy Football Today live show.
Sportacular 3.0 is designed to give sports fans their scores, news and stats as quickly as possible in a clean, beautiful layout. Experience fast, personalized, and easy access to live scores and information on your favorite teams, players, and leagues. More Yahoo! Sports content has been added throughout the app to make Sportacular the single tap answer to all of your sports needs.
MLB PrePlay is the official prediction game of Major League Baseball. Use it to predict the outcome of every game and every at-bat of the 2013 Season!
ACC Sports Official Application of The Atlantic Coast Conference
ACC Sports is your official source for Atlantic Coast Conference sports on the iPhone & iPad.
Mobile PWTorch will keep you up to date with what's happening in the world of Professional Wrestling from the recognized leader in pro wrestling journalism since 1987. A passionate staff of expert reporters and analysts provide not just the headlines of the day, but analysis to put those stories in perspective.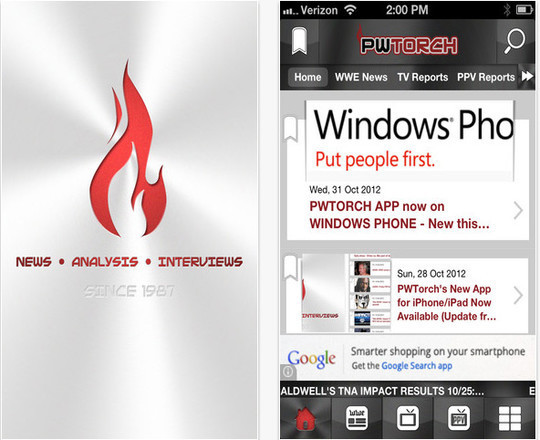 ESPN ScoreCenter brings you scores, news and standings from sports leagues, teams and players around the world. The new app makes it easier than ever to follow your favorite teams wherever, whenever. Stay up to date on the latest scores with personalized scoreboards and alerts. Follow the nation's top stories with in-depth coverage and analysis.
The official ESPNcricinfo App brings you the most comprehensive cricket coverage from around the world.
Watch live PGA Tour golf from your iOS devices with Golf Channel's Golf Live Extra app; find out what's on and view the schedule for upcoming tournaments.
CBS Sports — Your go-to source for NCAA College Basketball Tournament coverage and more.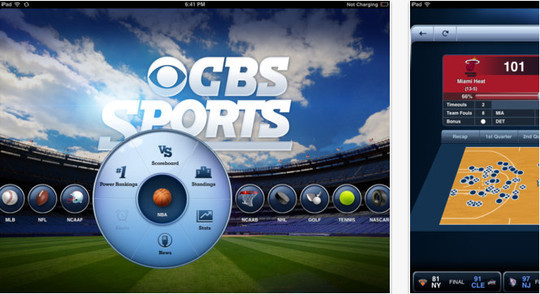 FCBWorld updated with new design, services and exclusive content. Don't miss a single piece of news about the Club and download this official Club application. Download the latest update and begin enjoying all the Club news as it happens – the first team, the sections, player profiles, complete stats history and honours…
Call It: Football – Play in Real-Time
Call It: Football is a REAL-TIME game that allows you to play as you're watching US professional football LIVE on TV. It makes watching live football more competitive, social and fun.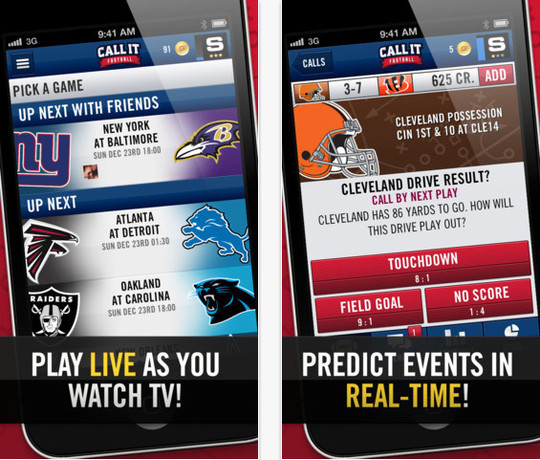 College Football Scoreboard gives you up to the minute college football scores, schedules and all the latest news stories, for the following conferences: ACC, Big 12, Big East, Big Ten, Conference USA, Mountain West, Pac-12 and SEC- plus Top 25 schools.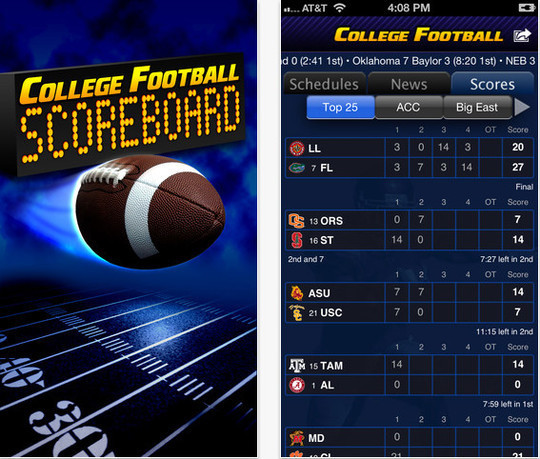 SmashingApps.com participates in various affiliate marketing programs and especially Amazon Services LLC Associates Program, which means we may get paid commissions on editorially chosen products purchased through our links to any of the linked sites from us.