Here is another plugins collection, and this time we are focusing on jQuery timeline plugins. jQuery has been vastly used in the web development area as it has simplified the whole process of web development and simplified the job of web developers. jQuery timeline plugins allows you to display a list of occasions in chronological order.
In this collection, we are presenting 14 useful jQuery timeline plugins that let you create powerful and interactive timelines in your own way. Moreover, these plugins will save your plenty of time that you can utilize in other task productively. Enjoy!
----------------------Recommendations; Please continue reading below----------------------
Tip: You can make sure everything you type is clear, effective, and mistake-free with Grammarly,  It scans your text for common and complex grammatical mistakes, spanning everything from subject-verb agreement to article use to modifier placement.
Timeglider JS is a zooming, panning data-driven timeline widget written in Javascript. This widget is the core of our our timeline authoring and publishing app, and can be integrated into any HTML application environment.
Lateral On-Scroll Sliding With Jquery
In this article, we are going to show you how to create a "slide-in on scroll" effect. You've probably seen this cool effect on some websites, like on Nizo or in the portfolio section of brilliantly designed La Moulade.
Facebook-Like Timeline with 3D Effect
A CSS-only Facebook-Like timeline with a 3D effect.The idea is to expand a content area when the associated radio input is selected.
TimelineJS is an open-source tool that enables anyone to build visually,rich, interactive timelines. Beginners can create a timeline using nothing more than a Google spreadsheet.
Timelinr is a simple jQuery Timeline Plugin that makes it easy to create awesome timeline effects for your website. It supports horizontal and vertical layouts, and you can specify parameters for most attributes: speed, transparency, etc.
Interactive & Accessible jQuery Timeline Plugin
Timeliner is another jQuery plugin for creating an fully accessible, interactive, printer friendly and responsive timeline that's able to handle nearly any form of Html content.
Touch-enabled jQuery Timeline Plugin with 3D Flipping Effects
Timecube is a fancy jQuery timeline plugin that allows you to navigation through JSON based events by mouse or touch swipe in an animated 3D cube interface based on CSS3 perspective, transition and transform properties. Currently supports Chrome, Opera and Safari.
Show A Stream of Your Online Activity With jQuery
Lifestream is a jQuery plugin that shows a stream of your online activity using the feeds of most major social media services.
Pretty time-series line graphs.
jQuery Timeline Plugin with Knockout and Moment.js
An easy and lightweight jQuery plugin worked with Knockout library and moment.js for creating a simple vertical timeline on your web page.
Timeline Plugin with Html5 and Moment.js
b1njTimeline is a jQuery plugin that makes use of Moment.js and Html5 element to create a simple and clean timeline on the web page.
Horizontal Chronology Timeline – chronoline.js
chronoline.js is a javascript Timeline library that make it easy to create a chronology timeline out of events on a horizontal timescale.
Lightweight jQuery Timeline Plugin – jqtimeline
jqtimeline is a simple, lightweight and easy-to-use jQuery plugin that allows you to create horizontal or vertical timeline for displaying a list of events in chronological order as a line.
Timeline Portfolio Plugin wih jQuery
—————————–Recommendations; Please continue reading below——————————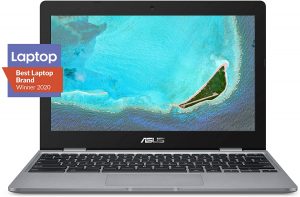 ASUS Chromebook C223 11.6″ HD Laptop Shop Now
This Asus HD Laptop is an amazon's choice for 'chrome computer laptop' is reviewed by 980+ reviewers that is available at only $249.99. It is ready for productivity and performance while being on the go or travelling, with speedy performance, robust security, and convenience for the user. This laptop has Lightweight 2.2 pound body and with thin and premium metallic finish for a sleek appearance having 11.6 inch HD 1366×768 Anti-Glare Display. The machine is powered by the Intel Celeron N3350 Processor (2M Cache, up to 2.4GHz) for fast and snappy performance including 4 GB DDR3 RAM; 32GB eMMC hard drive; No CD or DVD drive with it. Learn more about this product >>>
A jQuery Timeline Plugin for showing a chronological series of events. You can embed all kinds of media including tweets, videos and maps, and associate them with a date.