However you are a designer or developer or technology expert or a regular computer user, you most of the time want to bookmark images you found over the internet for better access in future. This is the post where we are listing out few great free photo sharing and image hosting services, this is an exclusive post for our those readers who want to upload, share or bookmark their photos. But our other readers will also enjoy this post. Don't forget to bookmark this post for your future reference. This is absolutely a great list of 13 Free Picture Sharing And Image Bookmarking Websites.
You are welcome to share if you know more free picture sharing and image bookmarking websites that our readers may like. Do you want to be the first one to know the latest happenings at SmashingApps.com just subscribe to our rss feed.
Fotki is a free service for sharing your photos online with friends & family. This is one of the easiest way to share unlimited photos. They also offer free unlimited photo hosting for blogs.
Flickr is almost certainly the best online photo management and sharing application in the world. Show off your favorite photos and videos to the world, securely and privately show content to your friends and family, or blog the photos and videos you take with a cameraphone.
MyPicGallery allows you to share pictures from within your galleries, on forums, auctions and personal web sites. You can edit your photos, create photo galleries, share your memories and more.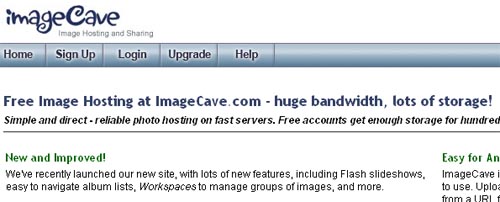 ImageCave is compatible with all leading web browsers, and requires no additional software to use. Upload image files directly from your computer, or transfer images into your account from a URL from another website!
Hiboox is an easy-to-use free image hosting service for all blog or forum users. It can be used to host, modify and share pics with friends using any imaginable means.
With Smiling Moments you can easily share your photos and videos by sending an invitation through this website to all of your family and friends. They can access your shared photos and videos without registering for an account and without receiving spam email.
Zooomr is a social utility for friends, family and co-workers who want to communicate securely through both photos and text messages in realtime.
Webshot allow you to Store and share 1,000 personal photos  + 100 more for each month of membership. You can customize your own homepage. There is an option that you can upload on the go from your mobile phone as well.
Slide is a free photo sharing,  image hosting, photo slide show maker. You can also use this service with MySpace, Hi5, Orkut, Beebo, Facebook and more…
TinyPic is a photo and video sharing service that lets you easily upload, link, and share your images and videos on MySpace, eBay, Orkut Scrapbooks, blogs, and message boards.

Your free Snapfish account gets you online digital photo printing, free online photo albums, free digital photo sharing services, and fun with photo.
Woophy stands for WOrld Of PHotographY, a website founded by a Dutch collective of photo aficionados and internet designers who believe navigation on internet can be more visual, logical and associative.
This is the fast and easy photo sharing from Google. You can share your photos with friends and family, or explore public photos.