There are many Mac apps/utilities out there, but getting by free and good ones are not that easy. That is why I am sharing The 13 Excellent Mac Utilities You Might Not Know About But Should. Read each entry in the list and see which tool suits your needs best.
You are welcome if you want to share more web apps that our readers/viewers may like. Do you want to be the first one to know the latest happenings at  SmashingApps.com, just subscribe to our rss feed and you can follow us on twitter and follow us on Digg as well to get updated.
focus booster is a simple and elegant application designed to help you eliminate the anxiety of time and enhance your focus and concentration.
SMARTReporter can notify you of impending hard disk drive failures by sending e-mails, displaying a warning dialog or executing an application. The current status of your hard disk drives is always displayed through the customizable menu item.
Some MacBook (Pro) are just to hot for daylong use. Fan Control adjusts the minimum fan speed depending on the current CPU temperature. For safety, it leaves the original automatic fan speed control intact.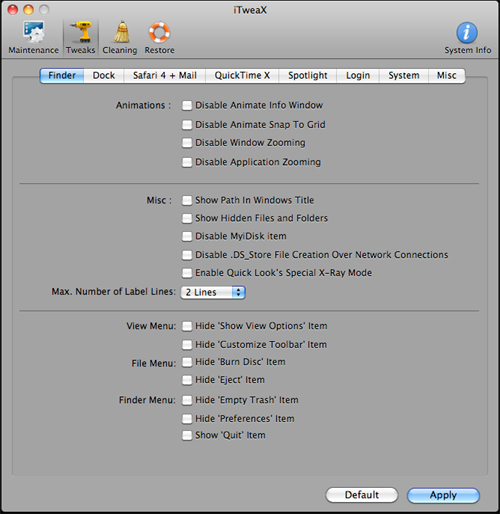 iTweaX is a free utility to reveal some usefull hidden features and maintenance tools for OS X 10.5.x and OS X 10.6
With coconutBattery you're always aware of your current battery health. It shows you live information about your battery such as how often it was charged and how is the current maximum capacity in relation to the original capacity
your battery had when it left the factory.
Permissions Reset will reset the permissions on anything, be it a disk, folder, application or simply a document, and it's easy to use and operates fast.
WhatsOpen is a MacOSX utility designed to aid you in determining what is holding your files open. There is a common OSX error when trying to eject removable media relating to files being in use. Often times your files are in use by Spotlight or some other internal system and you don't even know what program to kill to free up the files and allow the media to eject. This utility makes that a snap. It also provides many other administrative features you may find useful.
AppFresh helps you to keep all applications, widgets, preference panes and application plugins installed on your Mac up to date. All from one place, easy to use and fully integrated into Mac OS X.
Pref Setter is an application used to edit plist (Property LIST) files, geared towards viewing / editing Mac OS X's preference files. Very useful for setting those "hidden" preference settings that aren't available directly in an application.
Mactracker provides detailed information on every Apple Macintosh computer  ever made, including items such as processor speed, memory, optical drives, graphic cards, supported Mac OS versions, and expansion options. Also included is information on Apple mice, keyboards, displays, printers, scanners, digital cameras, iPod, Apple TV, iPhone, iPad, Wi-Fi Cards/Base Stations, Newton, and Mac OS versions.
SpaceControl will warn you when the free space available on your startup disk goes below the choosen limit.You could choose to get your warning through E-mail.
Disk Inventory X is a disk usage utility for Mac OS X 10.3 (and later). It shows the sizes of files and folders in a special graphical way called "treemaps".
Xbench is useful not only for comparing the relative speeds of two different Macintoshes, but also for optimizing performance on a single machine.