This is the post where we are listing out few great free apps for Mac Operating System, this is an exclusive post for our those readers who are the Mac users. But our other readers will also enjoy this post. Don't forget to bookmark this post for your future reference as it has few most useful application that will be helpful for you when you are on your Mac system. This is absolutely a great list of 13 Simple, Useful And Free Mac OS X Apps That Could be Really Useful.
You are welcome to share if you know more free mac apps that are really useful and our readers/viewers may like.  Do you want to be the first one to know the latest happenings at SmashingApps.com just subscribe to our rss feed and you can follow us on twitter as well.
Picturesque is a simple app with a simple goal to make images more beautiful. Whether you are in web or print, your images can benefit from a touch of Picturesque magic.
iStat pro is a highly configurable widget that lets you monitor every aspect of your Mac, including CPU, memory, disks, network, battery, temperatures, fans, load & uptime and processes.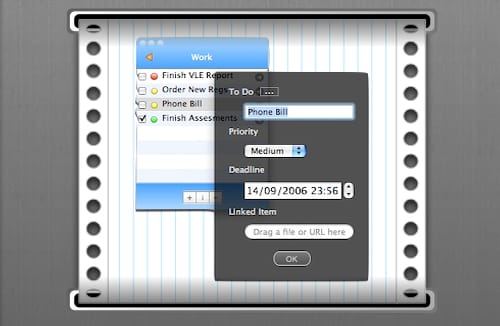 Do It is a small application to manage categorized to do lists. to do item can be linked witha a file on your computer, a url, such as the address of a website, or a contact from your address book. The linked item can be opened directly from the Do it window. To do items can also include notes, priorities and deadlines, which can be set as reminders in iCal.
Think will help you to limit your attention to one application—any application—at any time, you can bring other apps up quickly if you need them, and lets you put them out of sight again just as quickly.
VLC media player is a highly portable multimedia player and multimedia framework capable of reading most audio and video formats (MPEG-2, MPEG-4, H.264, DivX, MPEG-1, mp3, ogg, aac …) as well as DVDs, Audio CDs VCDs, and various streaming protocols.
HandBrake is an open-source, GPL-licensed, multiplatform, multithreaded video transcoder, available for MacOS X, Linux and Windows.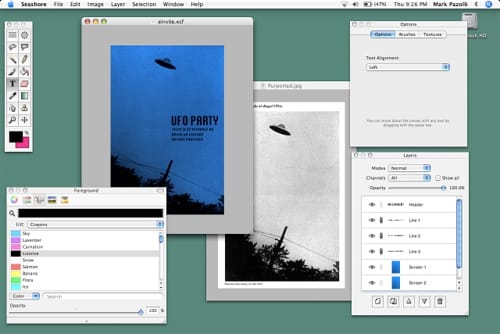 Seashore is an open source image editor for Mac OS X's Cocoa framework. It features gradients, textures and anti-aliasing for both text and brush strokes. It supports multiple layers and alpha channel editing. It is based around the GIMP's technology and uses the same native file format.
smcFanControl lets the user set the minimum speed of the build in fans. So you can increase your minimum fan speed to make your intel mac run cooler.
Transmission is a cross-platform BitTorrent client. It uses fewer resources than other clients. Transmission has the features you expect in a BitTorrent client: encryption, a web interface, peer exchange, DHT, UPnP and NAT-PMP port forwarding, web seed support, watch directories, tracker editing, global and per-torrent speed limits, and more.
Fluid includes Tabbed Browsing, built-in Userscripting (aka Greasemonkey), URL pattern matching for browsing whitelists and blacklists, bookmarks, auto-software updates via the Sparkle Update framework, custom SSB icons, a JavaScript API for showing Dock badges, Growl notifications, and Dock menu items, and more.
Perian is a free, open source QuickTime component that adds native support for many popular video formats.
SuperDocker gives a full access to Mac OS X hidden functions and lets you rediscover your system in a unique way. You can take advantage of SuperDocker's powerful export and import features to share your creations as well.
Sequential is an image viewer for Mac OS X. It was originally designed for opening a folder of images and displaying them in order. It works well for viewing comics and manga. Sequential can display folders and archives (ZIP, RAR, CBZ and CBR) of images (including JPEG, PNG, and GIF) and PDF files. It is able to load images on the internet from a page or image URL.
SmashingApps.com participates in various affiliate marketing programs and especially Amazon Services LLC Associates Program, which means we may get paid commissions on editorially chosen products purchased through our links to any of the linked sites from us.