In this round up of 10 we look at some really cool newly discovered websites for you to try out, so that you don't have to wander to look for them, and they are just not cool they live up to the purpose they are built for.
You are welcome if you want to share more new and useful websites that our readers/viewers may like. Do you want to be the first one to know the latest happenings at SmashingApps.com, just subscribe to our rss feed and you can follow us on twitter and follow us on Digg as well to get updated.
Do you want to know if you are getting the internet bandwidth that you were promised by your ISP?, if YES,  just log in to Bandwidthplace, where testing your bandwidth is as simple as pressing a button. Once the websites loads just press on the "Start Test" button and you will have the results in no time. Its fast and accurate. So test your bandwidth right now.
You read it right corrupt your documents so they won't work, and why would you need it?, well have you been in times when you had to submit a paper at college or submit a report at work by a certain deadline and you know you won't be able to make it, and that your merciless teacher or boss will hold you accountable? Well this will just buy you sometime, go the website choose the file and click upload, it will corrupt your file and give you a download link to the corrupted version. The Document Corrupter supports old and new versions of Microsoft Word, Excel and PowerPoint.
Qurify is a website that lets you code a message of max. 255 character in a QR Code and lets you either email it directly download it in PNG or JPG formats or print it. QR codes are 2 dimensional barcodes that are easily scanned using any modern mobile phone and then converted into understandable text. So it's an easy way to pass a message across the hall that you don't want others to peek on, or just make your messages more secure cause the coded message just looks like abstract art.
If you are looking to communicate through electronic medium and not leave evidence Privnote is the right website for you. Just open the website  write in your note and create it. It will give you a link that you can send to the person who the note is intended for. That link can be accessed only once so it leaves no evidence or risk of being read again or by someone it is not intended for. The website supports up to seven languages so you can choose a language of your preference. It's simple, easy and secure.
This website gives you access to a virtual keyboard that can adapt into 67 different languages. So if you are looking to type in a different language this is the best solution for you. It also lets you directly use famous search engines and websites to put your text in. You can also save your file in a word document.
DarkCopy is a website which is for anyone who appreciates the old school typing interface of a typewriter and wants to increase their productivity as all the colors in today's software makes it hard to focus on your typing. You can switch to a full screen option to be even more productive and save your work in a Notepad file. It's simple and effective.
Do you find it hard to keep track of time you spend on a specific Task, Project or client? MakeSomeTime helps you keep track of your time and helps you invoice like a professional. Just create an account add clients to it, associate projects to the clients and create tasks for the projects.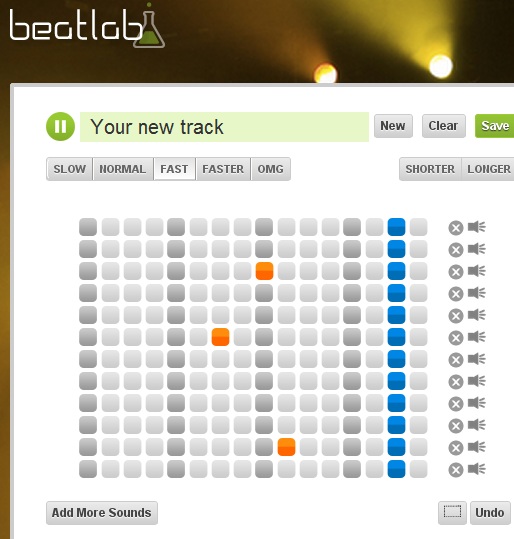 Beatlab makes it very easy for you to make your own tracks, just open up their site and you will see a gird, click on the gird and make a sequence and selection of sounds you want to be played, select a tempo and you are good to go. It's easy and exciting. Save your track and share it with your friends.
Talk to your future by logging into Futureme and writing yourself a letter about how things are now, and what you expect from your future. You just need to write in your email and the subject is already written with a date. Write what you want to say put in a date you want this letter to be delivered to your email address, you can even add a picture and send it to your Future.
Textify.it is a website that lets you add any text or symbol affects to any picture of your choice. It has a very simple and easy to use control panel on the top right that lets you control the texts and symbols you want to use as well as its font and quantity with many other options. It's very simple to use , just drag a picture in the browser on the webpage or open a picture using the controls. The website is only compatible with Google Chrome and Mozilla Firefox 4.
SmashingApps.com participates in various affiliate marketing programs and especially Amazon Services LLC Associates Program, which means we may get paid commissions on editorially chosen products purchased through our links to any of the linked sites from us.