This post will make you busy in a fun way when you are free and looking out to spend your time in more interesting way. Here we are listing down some fun apps for your iPhone or iPad to enjoy your time. This is the post in which you will know about 10 Fun iPhone Apps You May Want To Be Entertained.
You are welcome if you want to share more fun apps for iPhone that our readers/viewers may like. Do you want to be the first one to know the latest happenings at  SmashingApps.com just subscribe to our rss feed and you can follow us on twitter as well.
Tip: You can make sure everything you type is clear, effective, and mistake-free with Grammarly,  It scans your text for common and complex grammatical mistakes, spanning everything from subject-verb agreement to article use to modifier placement.
Do you want to find out what is the best hairstyle for you and your friends? With Hair MakeOver you can try on many different kind of hair styles and hair cuts in less than a minute on your iPhone. There are 32 32 hairstyles that you can try in this app.
Friends Around Me is a free mobile app for interacting with friends 24/7 across social networks and for meeting new people nearby or across the world through an interactive location-based search. This is available in English, Spanish, Portuguese languages.
A versatile and FREE mirror application. Unlike other apps this has no needless frames to reduce your viewing area. You can choose the background color for the optimum reflection depending on your ambient lighting. This can also function as a flashlight.
Lie Detector Scan can tell if a person is lying by their pulse and body heat  from their fingers. You can have your friends and family put their fingers on the scanner and start asking away. When they release their fingers from the scanner you will hear the systems voice give the results. Unlike most lie detectors the person does not have to answer basic yes or no questions.
Want to know how old you are? Calculate your age in: Years, months, days, hours, minutes, or even seconds. It has Facebook, Twitter and Email sharing option so you can share these details easily.
This could be your one of the best fun app in this list. You choose one out of 6 cards, The magician inside the app will read your mind through your iPhone, and the program removes your card from the stack.
This app makes hilarious pics of your friends or yourself in unbelievable places. You can put them next to a charging bear, friendly sumo, steamy hottie or wherever you want.
Compass is a a measuring instrument which indicates the cardinal points under the sunlight.
Would you like to change your voice in strange and wonderful ways? Voice Changer Plus lets you do just that. Just pick a voice and make a recording. If you want to try a different voice, there's no need to record again. Just pick a new voice.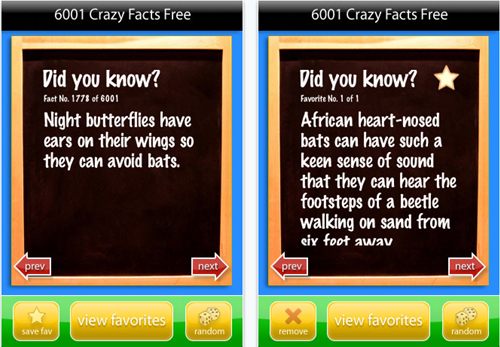 6501 Crazy Facts have more than 6001+ of those facts, ranging from science to people, from weather to the human body, from animals to just weird tidbits. There are literally hundreds of random, fun, and bizarre facts packed into this application! Since there is no need for an internet connection, you will always have these facts at the your disposal.