Internet has become an important source of knowledge for students. Whether its Science, Mathematics or any other subject, many students tend to use internet as their main source of information. Students even use the internet to take external courses and learn different languages using video lectures uploaded on different websites. Today, we have gathered list of websites which can be used by students to learn online.
Wolfram Alpha is an excellent online tool which helps students solve computational questions by just typing the equation or mathematical problem. All you have to do is type the equation in the search field and it will give you step by step solution to that problem.
With Mathaway, students can solve different mathematical problems in few seconds. Using Mathaway, students can solve questions related to algebra, calculus, trigonometry, statistics and much more. All they have to do is type the mathematical problem, select the subject and click Answer. You can even signup for a premium account and get advance solution with proper explainations.
Babbel is an excellent online utility which can help students learn different languages online. It has an integrated speech recognition tool which can be used to test and improve your pronunciation. You can even connect with people from all over the world and improve you pronunciation skills.
Dynamic Periodic Table is an excellent sources of knowledge for students especially those who are taking chemistry courses. With Dynamic Periodic Table, you can get information about all the elements in the periodic table, there isotopes, there state and much more. Clicking on the element will open a new window which has everything you need to know about that specific element.
Math.com can help students learn mathematics principles online. They provide students with different guides, assessments and solutions to help them grasp the basics of mathematics. In addition to solutions, Math.com offers recreational introductions to the world of math that will lead to deeper understanding of different topics.
Tutor2u is an excellent websites which provides students with lectures and notes related to Economics, Business, Politics, Enterprise, Law, Sociology, History, Religious Studies and related subjects. Tutor2u offers free educations material as well as subscription based material which can be used by students as well as teachers.
LiveMocha is an excellent source for students who want to learn new languages. Students can even help other students improve their native language and learn other foreign languages online. With LiveMocha, you can get in touch with students from around the globe from different cultures and backgrounds.
Verbalearn is an excellent source for students who want to improve their English vocabulary. With Verbalearn, you can learn new words daily, track your progress, find you strengths and weaknesses, test yourself and much more.
Just like LiveMocha, MyHappyPlanet can help students learn different languages online. Students can talk to people from different countries and practice there speaking skills, pronunciation and learn about different cultures from all over the world.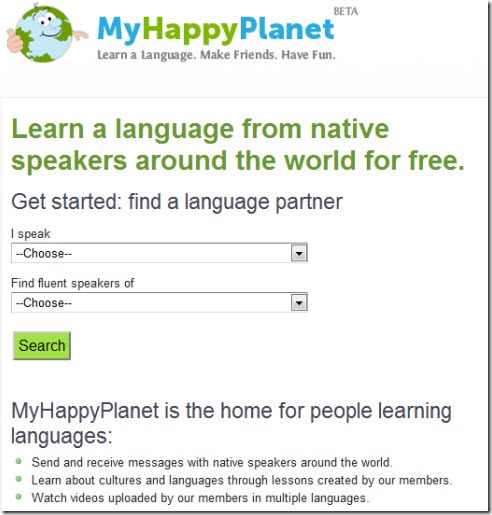 With wePapers, students can expand their knowledge and share what they know with others. With wePapers, you can check different lectures and presentations created by other students and share yours with the rest.
Feel free to mention any other useful link related to this topic and we will try to review it soon.