There are many Mac OS X apps out there, but getting by free and good ones is not that easy. That is why I am sharing The10 Coolest Mac OS X Apps You Might Not Know About (But Should). Read each entry in the list and see which tool suits your needs best.
You are welcome if you want to share more Mac OS X Apps that our readers/viewers may like. Do you want to be the first one to know the latest happenings at  SmashingApps.com, just subscribe to our rss feed and you can follow us on twitter and follow us on Digg as well to get updated.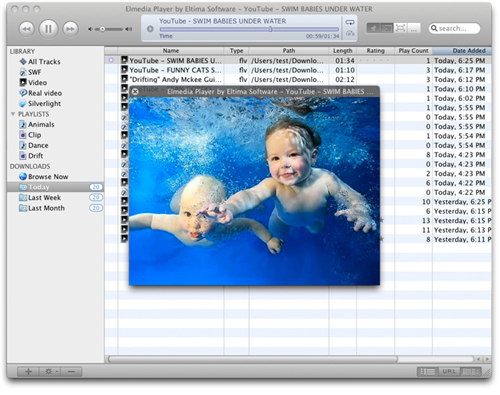 Elmedia Mac media player is a versatile tool that supports multiple formats playback (FLV, SWF, XAP (Silverlight), RM and RV (Real), AVI, MOV, MP4, WMV). No need to install a separate player for each video you want to watch. Enjoy your screening with Elmedia Player.
QuickNote is a combined notepad and clipboard manager, useful to quickly jot down ideas and todos, store quotes, code snippets or whatever.
With the click of one button SiteCapture loads a set of web pages and creates images in the format you want. The pages are rendered using WebKit, the browser engine used by Safari.
Get Backup gracefully combines various backup capabilities, such as disk cloning, scheduling, compression tools, the ability to restore an archive on any computer without necessarily using Get Backup, and much more.
It's just a very simple app for quick launching your applications and nothing more. It's no calculator, no clipboard manager and of course no replacement for Quicksilver and LaunchBar.
iPad, iTouch or iPhone Disk Mode is made easy with Phone Disk. Using your standard USB cable, this tiny program runs in the menu bar or system tray of your Mac or PC. When it finds an iPod Touch or iPhone it seamlessly mounts it to your file system so you can directly access its files using Windows Explorer, Finder and every other program.
Quiet Read is an application that lets you save any link for later. There are note taking applications and everything-buckets to do that, but it is light and as simple as dragging a link onto a menu bar item to store it.
Do you want to record your desktop as a video? If you want to make an instructional video, or simply want to record what your doing. If so DesktopRecorder is the tool for you.
Filemailer is a file sending solution for Mac OS X. Saving both time and disk space, Filemailer is a handy utility that changes the way people share files via internet.
WinX HD Video Converter for Mac, as a professional Mac HD converter software, provides the perfect solution to convert Blu-ray videos and videos from HDTV and HD camcorders, like JVC, Panasonic, Sony and Cannon to other formats. This HD converter for Mac supports converting Multi-track HD video M2TS, MKV, AVCHD, HDTV BDAV and MPEG-TS video movies.