At times sharing the URL of a site simply does not get the job done. Suppose there is a specific part of a website which you have an opinion about; to share this opinion you will first need to separately share the site's URL, then tell the recipient which part of the site you are referring to, then share your opinion. Needless to say, that process can be quite long – Bounce provides a much shorter way to perform that task.
Bounce is a free and simple to use website that lets you annotate webpages. Annotation is to comment on any area of a webpage. This way when the recipient visits the webpage, he can view your comments on a specific area of the webpage – thus entire process outlined above can be completed simply by sharing a URL.
You start by visiting Bounce's homepage and entering the URL of the site you want to annotate. Let us assume the site is Yahoo!.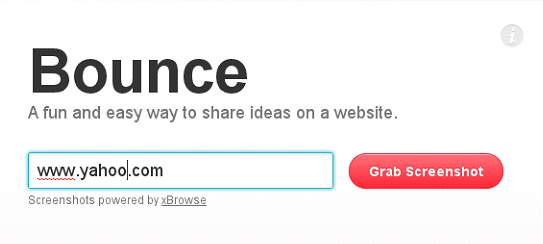 After you submit the link, Bounce will capture a screenshot of the website. On this capture image, you can make comments. The image is shown under an editing panel.
You should start commenting by naming the page in the top left.
This step is not necessary, but some users might prefer to type in their name in the middle of the editing pane.
When you bring your mouse pointer over to the image, the mouse pointer changes to a crosshair and you can click'n'drag to highlight any area on the webpage. Subsequently a box open beneath this area in which you can leave comments.
There is no restriction on how many red boxes you can create – you can leave as many comments as you want.
To share this annotated webpage, head on to the top right of the site and click on the "Save" button to obtain the URL. From here you can also directly share the URL to your Facebook or Twitter account.
Visiting this URL will show all your red boxes; when the visitor brings his mouse pointer over a to a box, your comment appears beneath it.