An under construction or coming soon page will come into play when you need to inform your users that the web page they are trying to visit is in the construction process and they should visit it after some time. At times, when companies decided to make huge changes in their online profile; they need to redesign the whole website or the large portion of it. At the same time, they do not want their users to see a blank page. Therefore, they design an under construction or coming soon page.
In this collection, you will discover some inspiring and free templates to design coming soon and under construction pages. Browse through this collection and download as many templates as you want.
Free Coming Soon Page Template: Blue Horizons
Free HTML/CSS Coming Soon Page
Elegant Clean Under Construction Page
Website Under Construction Template
Clean Under Construction Template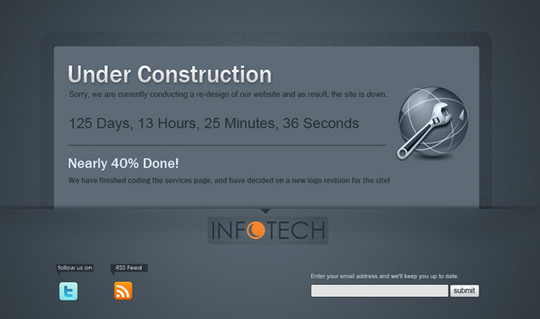 Creative Under Construction Template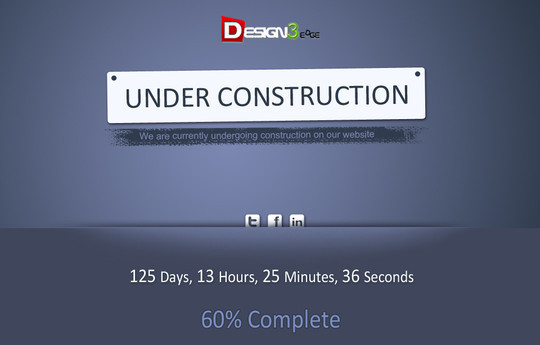 Modern Under Construction Template
Premium Under Construction Template
Cool And Free Launch Page With Ajax Newsletter
Coming soon page template download (PSD)
Tutorials
Creating a Stylish Coming Soon Page with jQuery
In this tutorial we will learn how to create a Stylish Coming Soon Page with jQuery.
Create an Effective Coming Soon Page
In this article we will talk you through how to construct a very usable, applicable coming soon web page. We will also be discussing why we are doing certain things, and what we're trying to achieve with each step. This way you'll not only be able to create a similar design, but you'll understand the importance of the details, and just how effective they can be.
How To Design A Coming Soon Page In Photoshop
In this tutorial we will show you how to create a coming soon page in photoshop. To design a coming soon page is really important if you are about to lunch a new website, and is a pretty good marketing tool.
Design a Bright & Fun Coming Soon Page
In this tutorial you will learn how to design a fun Coming Soon Page for a website.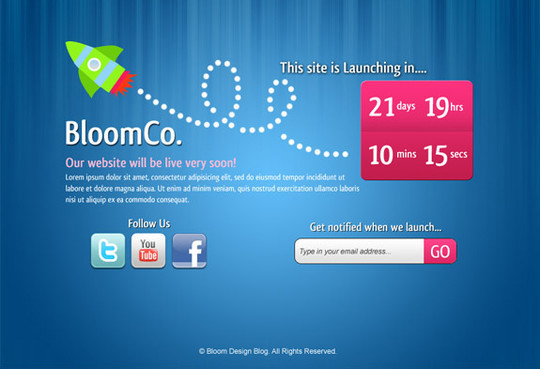 Here we will be showing you how to create a cool coming soon web page design. The designs features a dark feel with a cool count down timer. Lets get started…
How to Create an Effective Coming Soon Page
Coming soon pages are generally very simply when compared to regular websites. However, they're notoriously difficult to get right. The simplicity of the concept can actually overwhelm many designers, as they end up with a boring, lackluster design. Here, we'll look at how to design a simple, but effective coming soon page, and some of the theories to bear in mind.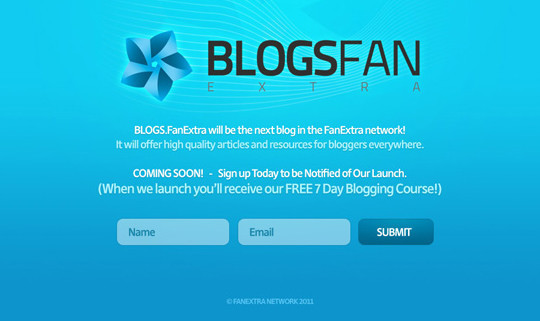 Freelance Coming Soon Photoshop Tutorial
We will be walking you through the process of creating a Coming Soon Page for your Freelance website. We will be using a lot of basic techniques and simple layer styles to create an excellent look.
Design A Textured 'Coming Soon' Web Page In Photoshop
This web design tutorial will show you how to make a simple "coming soon" web page that has a nice background texture and a slick web form that you can easily adapt into contact forms, newsletter signup pages, and more.
Design And Code A Sweet Custom Coming Soon Page
In this tutorial you will learn how to Design and Code a Sweet Custom Coming Soon Page.
Conclusion
This compilation features some excellent and high quality templates for Coming Soon and Under Construction pages that you can use for free. We have compiled this collection to help you make your Coming Soon or Under Construction pages more appealing and visually enticing. We hope that you will like this collection. Feel free to share your opinion with us via comment section below.