Getting ill is a routine part of human life. This is why a medical specialist is so necessary for us. Usually one has to pay serious bucks and take out time to receive medical advice on health issues. Now you can do the same without having to spend money or your time. The solution we present are top five places on the internet where you can find medical specialists, for free!
You are welcome if you want to share more useful websites to find medical specialists online that our readers/viewers may like. Do you want to be the first one to know the latest happenings at  smashingApps.com just subscribe to our rss feed and you can follow us on twitter as well.
Health in Reach is like the Google of medical problems. You can search for medical problems, diagnosis, specialists and anything related to the medical industry on this free online portal. You can communicate with doctors about your problems, set appointments with them if your problem demands physical treatment, all by the nature of your problem and location. The health search function of Health in Reach is really great and useful.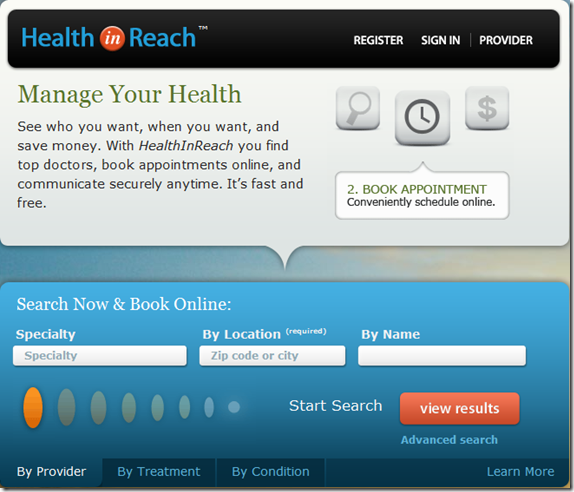 Insider Pages is a very comprehensive online yellow pages catalogue which also lists top doctors and dentists in its database. Medical and dental specialists can be searched and found using its built in search or according to reviews submitted by people who have already received treatment by finding specialists by searching on the website.
Another medical specialists discovery and appointment setting service online, ZocDoc allows searches to be made based on specialization and location and allows you to book an appointment online. With ZocDoc, if you're a doctor yourself, its simple procedure can let you get listed for patients to search for you as well.
As the name suggests, it is also a comprehensive online search utility which lets you find doctors online. Search options like finding doctors by their office names, location, last names, specialty etc. are available. Also, the website features regular health articles which create awareness among its visitor about the latest health issues and their remedies.
Another online catalogue of doctors and physicians, WebMD lists therapists as well and also has a comprehensive list and details about the common medical tests and procedures. In addition to that, all the basic doctor finding features are also incorporated to the service. Detailed Information on issues like Drugs, diet, parenting and pregnancy etc. is also available on the website.
SmashingApps.com participates in various affiliate marketing programs and especially Amazon Services LLC Associates Program, which means we may get paid commissions on editorially chosen products purchased through our links to any of the linked sites from us.