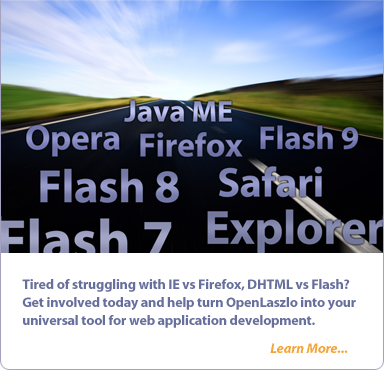 OpenLaszlo is an open source development platform for web applications. It's main target today is generating macromedia flash files (swf)and AJAX/DHTML for use on web pages and sites. OpenLaszlo is script based with it's own LZX programming language – and eventhough it does not provide a wysiwyg user interface it a still simple to use and applications are easy to build. For building rich internet applications OpenLaszlo is a great tool. And recently OpenLaszlo and SUN made a joint announcement to make OpenLaszlo available on Java micro edition (J2ME), which includes mobilephones and set-top boxes. Download OpenLaszlo here or you can also have demo here if you just need to see it to understand it.
Click here for OpenLaszlo's website
You Might be Interested to Checkout These!