WordPress is the blogging platform that you should be using if you mean serious business. In fact when some professional bloggers are asked the question that if you will have only $100 and have to start a new blog, what will you do – they say they will purchase a web hosting and install WordPress on it. They say they will never compromise on this anyhow.
Lots of bloggers use third party themes for WordPress because this makes them stand out of the crowd. But different themes serve different purposes.
A fashion blog will require a different theme, a fitness blog will need something different and similarly a job board blog will require another theme.
If you have visited sites like Monster.com or CareerBuilder.co.in then you know what a job board means.
There are some bloggers who use plug-ins and create separate pages for job boards, However if you want to create a website totally dedicated to jobs then I would recommend you try Jobelon.
Jobelon is a WordPress job board theme designed by WPJobBoard. WPJobBoard is actually a plug-in which you can use to create a job board on your WordPress site.
Jobelon is ideal for a job board based website. It is designed in such a way that all three parties – website owner, ad publisher and job seeker – will face no difficulty in using it.
Let me guide you through this theme.
The screenshot below shows a part of the home page of Jobelon.
The search bar at the top left is for searching jobs with relevant keywords.
So if you are searching for a job of a search engine optimizer you could plug-in the words SEO, Google, search engine, etc. and you will be displayed with the relevant jobs.
The second option on the right is for categories. If you want to see all jobs posted in a particular category you can use the drop down box and choose the category in which you are interested.
The ads below these search bars pertain to the "All Jobs" category which means the list displays all jobs randomly on the home page.
The top right part of the page contains two buttons named "Post a job" and "Find a job."
If you are an employee click on Find a job.
If you are an employer looking out for employees click on the Post a job button and you will be redirected to a page where you can create an ad for your job.
The screenshot below shows that page.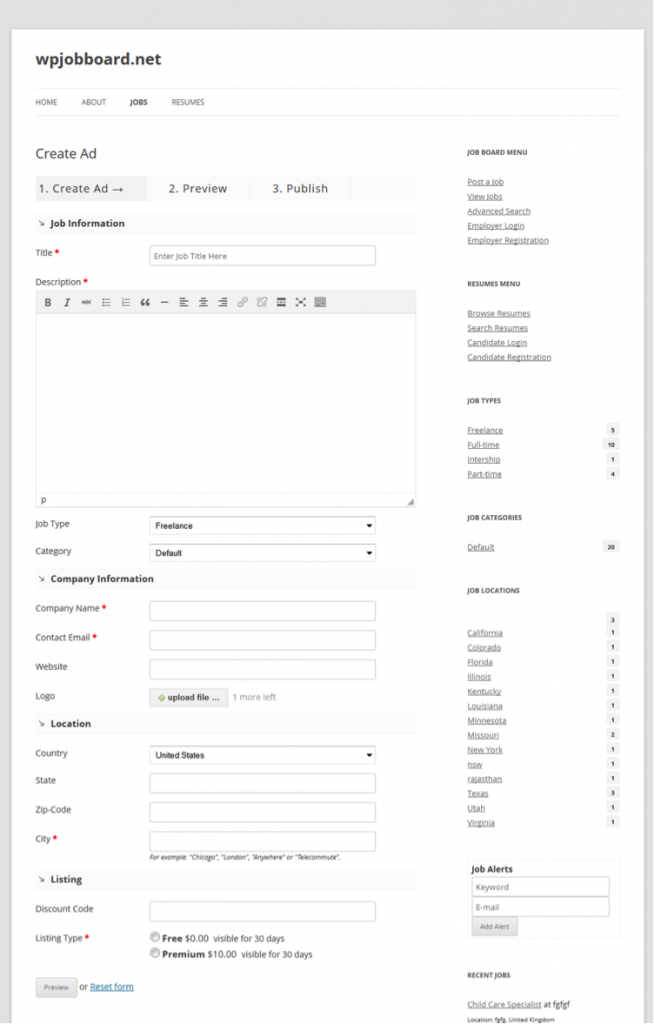 As you can see this page has a lot of forms and it allows you to fill in as much information as you want.
First one is the Title where one can fill in the heading of the job. For example "Copywriter," "Search Engine Optimizer," "Website Developer," etc.
Then is the option to enter the job description. Here one can write the details of the job and the nature of the work. What kinds of articles will the copywriter have to write? SEO requires many tasks so what exactly is expected from the Search Engine Optimizer? How many websites should the website developer develop per month? One can answer such questions here.
Then there are many nitty gritty details like is the job freelancing or a permanent monthly income based? If it is a permanent job where is the employee supposed to work? What are the details of the employer? Etc.
Go and check out this wonderful theme and then let me know what you think in the comments below. I am curious.
SmashingApps.com participates in various affiliate marketing programs and especially Amazon Services LLC Associates Program, which means we may get paid commissions on editorially chosen products purchased through our links to any of the linked sites from us.